Weak Thai baht spells opportunity for property investors

Thai baht briefly hit a seven-years low at 36.35 THB/USD last week, continuing downward trend, it's been experiencing since February.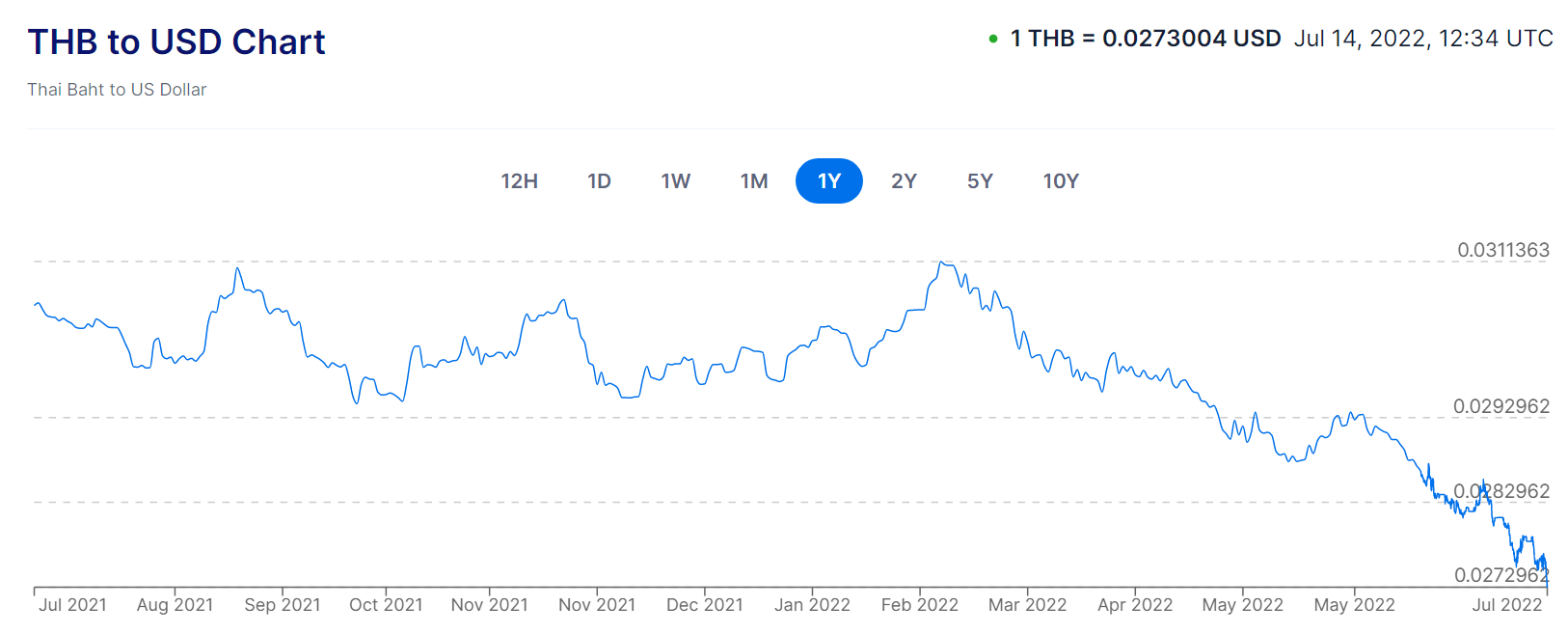 Data by XE.com
The rate weakening has been attributed to Thailand's low interest rates (which cause the outflows to higher-yield countries), COVID-situation in China, overall macroeconomic situation including concerns over potential recession in US and Europe, as well as strong dollar and concerns over the Fed's aggressive rate hikes.
While, effects on local households (in big part due to gas prices) and manufacturers importing raw materials and components can be harmful, keep in mind that there are upsides to weak THB as well. Thai goods and services will become comparatively cheaper, which means tourism operators, exporters and outsourcers will be in better position; so are overseas buyers of Thai assets.
It's also important to note that while THB fell against USD, it's actually been rising against EUR and GBP since last year. Bank of Thailand Governor Sethaput Suthiwartnarueput says he is not overly concerned about THB/USD exchange rates, since the fundamentals of the baht and economy in general are strong, and there is no immediate reasons for concerns.
Outlook
While immediate bounce back is unlikely, according to Bangkok Post, their sources within Ministry of Economy expect the baht to rebound in the second half of the year, as the economy continues to recover. In general this prognosis seems to be in line with historical performance of the baht - currency of South-Eastern Asia's 2nd biggest economy, THB was traditionally viewed as a safe-haven currency among Asia currencies.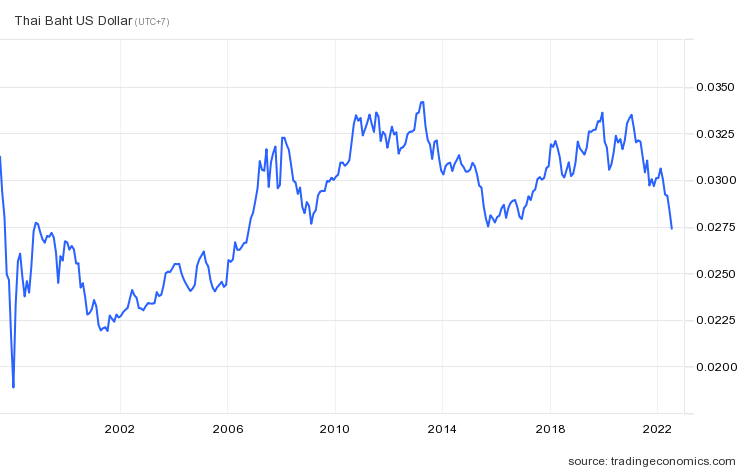 While it did dip during Asian Financial crisis of 2007, 2008 economic crisis, as well as during COVID, overall historical trend remains upward.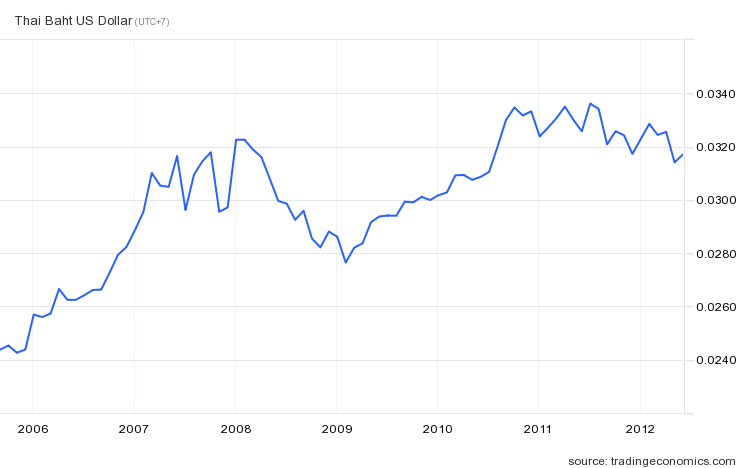 THB has shown its resilience with quick rebound after 2008 financial crisis.
However, government appears to be likely to take action to strengthen the baht.
Vice-Chairman of the Employers' Confederation of Thai Trade and Industry Mr. Tanit Sorat in an interview said that an appropriate rate (i.e. which will be the most beneficial for the economy) to USD to THB is around 34.
Thailand has a relatively low interest rate (0.5%), which has been upheld by Bank of Thailand's rate-setting committee split decision (4 to 3) back in June 2022. Multiple experts currently expect the rate to be increased by 25 basis points on its upcoming meeting in August.
Opportunity
While weak THB presents issues for local investors, it can be a boon for an overseas investor.
Low THB rate means decreased purchase cost for overseas buyers. This is in addition to Thai property already affordable prices. While multiple markets in US, Europe and Australia experienced bubble-like growth boom in 2021, Thailand's residential prices remain reasonable
Eventual exchange rate rebound means currency appreciation (not even accounting for property appreciation itself). I.e. if THB recovers to April levels of 34 THB for USD by the end of the year (which is not an outlandish scenario), this alone will make for 7.6% appreciation of a property you buy today.
We're not even mentioning all the usual benefits, like diversifying your portfolio or enjoying well-above-average rental yields.
While interest rates hike naturally decrease housing affordability on the local market, for the properties that have been predominantly - or exclusively - catering towards foreign buyers, it is of little concern, since foreigners cannot get mortgage in Thailand anyway. So, if you've been looking looking for a cabin in Thai countryside - now may be time to wait. But if you are in the market for a sea-view villa on Samui, or branded residence on Phuket - it's time to buy.