Sathorn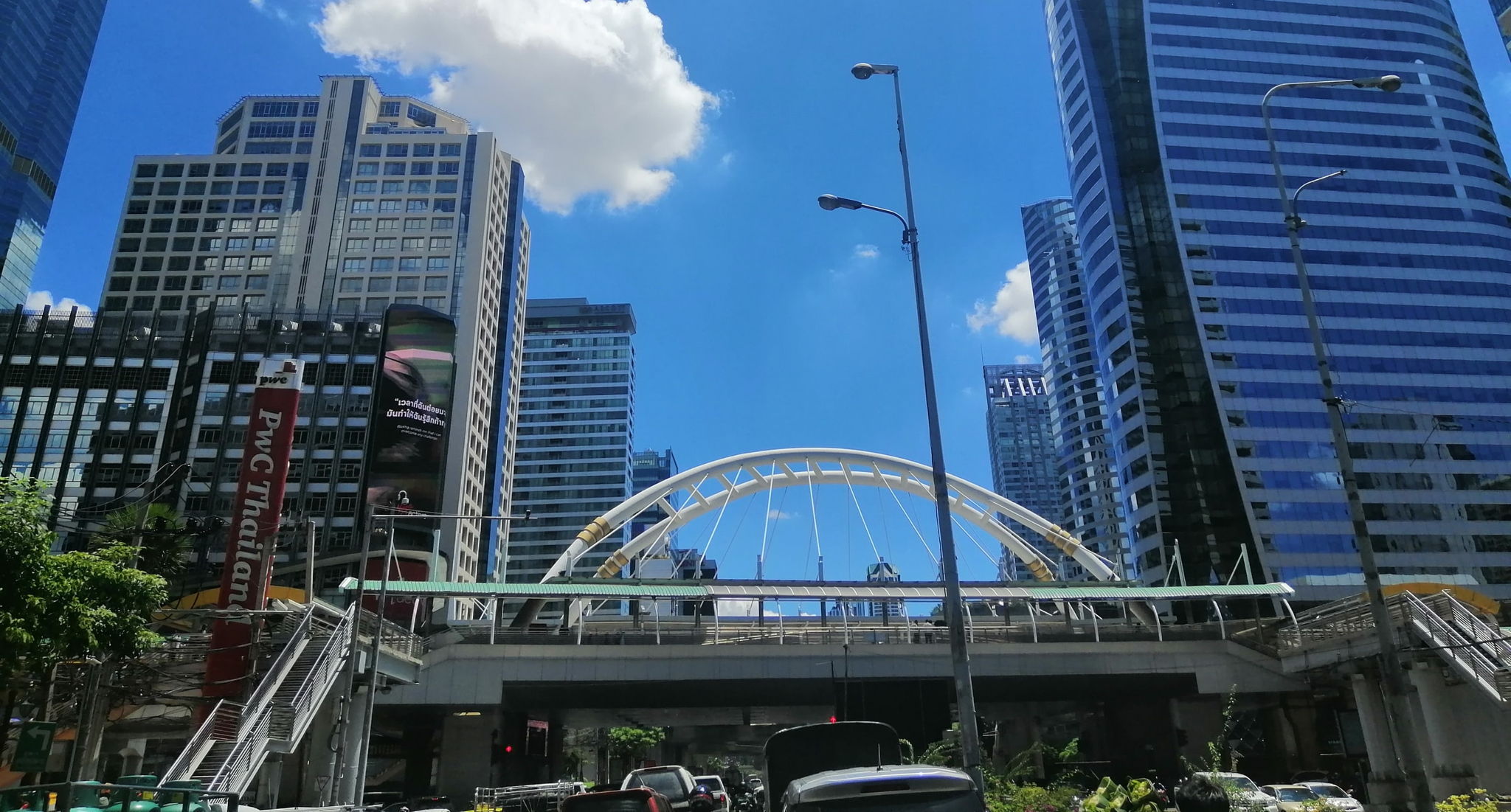 Overview
Sathorn is Bangkok's main financial districts that offers eclectic mix of historical and modern. It's home to upscale condos, gleaming corporate offices, imposing embassies, fine restaurants and luxury hotels.
Sathorn is located along and to the south of the main Sathorn road - one of Bangkok's busiest and most important thoroughfares. It starts at the Witthayu intersection near Lumphini park and goes all the way to Chaophraya river. Running parallel to Sathorn, ~500 meters to the north is Silom road. Silom is another popular neighborhood, and a lot of interesting developments are happening on the sois between the two roads.
👉 SUNWAY comment

The line between Sathorn and Silom is blurred enough that we've seriously considered combining them in one guide. Still, it's important to remember that the areas are immediately adjacent, largely share transit network and are directly accessible from one another.
Sathorn is considered one of Bangkok's main central business districts, along with Ploenchit/Wireless road area, mid-Sukhumvit and up-and-coming 'New CBD' in Rama 9-Ratchada. It easily accessible by MRT Blue line or BTS Silom line which runs along the entire Silom-Sathorn area to Sathorn pier, and then over Chao Phraya river. From the pier you can also catch a boat to historical sights, like Grand Palace or to one of new riverside malls, like ICONSIAM or Asiatique.
Sathorn road directly connects to ultra-prestigious Wireless road. The latter is famous as one of Thailand's most expensive areas; on top of that, Wireless road and Sathorn are home to multiple embassies and consulates. Embassies on Sathorn include Austria, Australia, Belgium, Brazil, Canada, Denmark, Germany, Greece, Holy See, Kuwait, Luxembourg, Malaysia, Mexico, Oman, Singapore, Slovakia, Taiwan and UK.
Some of Bangkok's most high-end hotels are located here as well, including Banyan Tree, So Sofitel, W Bangkok and soon-to-open The Standard (which will be housed in the avantgarde Mahanakhon tower).
While Sathorn is all-business during the day, it has a thriving restaurant and bar scenes. Great places are everywhere, but there are some particularly outstanding neighborhoods. Suan Plu (soi Sathorn 3) is a long road with multiple side sois famous for its assortment of local and international restaurants and bars, as well as some incredible street food. It's chaotic diversity and sheer authenticity give it a reputation of a genuine foodie destinations. Another one is Sathorn sois 10 and 12 - a tree-lined enclave that started off as a pleasant residential neighborhood, but over the years attracted a great lineup of cafes and restaurants, becoming a really popular spot - especially since new BTS St. Louis station opened in front.
With all the high-rise condos and office towers standing tall on both side of wide, busy street, Sathorn presents impressive modernistic skyline. However under all the modern glass and concrete, it's an old area with rich history and tradition. Some of local landmark include Saint Louis Church, Wat Yan Nawa temple, M.R. Kukrit's House heritage museum, Yawa Mosque and more.
As we've mentioned above, Sathorn connects to Lumphini park - Bangkok's first public park and to this day one of the biggest (57.6 hectares). With its walking paths, lakes, playground and sublimely old-school outdoor lifting gym, it's a welcome green oasis in the middle of Bangkok.
Real Estate Market
A short walk along Sathorn road will immediately give you a general idea of the market. Residential skyscrapers towering alongside luxury offices and embassies are a home primarily to high-income Thais and expats, attracted by the area's CBD status, lifestyle amenities and access to Lumphini park.
New launches here generally fall in 200,000-300,000 THB range, cementing Sathorn's status as one of the most expensive areas in Bangkok. Although, as you go further from Sathorn-Silom-Saladaeng area, you can find more affordable properties.
Currently there are several large-scale, high-profile developments in or around Sathorn. The most notable is One Bangkok - a sprawling 104 Rai, 3.9B USD mixed-use development, which competes with the Forestias for the title of Thailand's largest private sector property initiative ever undertaken. Another noteworthy mixed-use development is Dusit Central Park which will be built on the plot of the old Dusit Thani hotel in Silom and will include hotel, condominium, retail and office spaces. Developments of this scale drive the appeal of the entire surrounding area.
Lumphini park also has several things going for it. A 260-million THB renovation program is currently in progress to transform an old 1.3 km overpass to Benjakitti park (which itself is undergoing a massive expansion) into a landmark 'green bridge' for pedestrians and cyclists. Apart from that, a major facelift, with estimated budget over 1 billion THB, is planned ahead of the park's 100th anniversary in 2025. The park is already a major attraction for residential buyers and tenants in the area, and any further improvements will be a boon for the market.
Sathorn has plenty of high-end office supply, including Empire Tower, Sathorn Square, Bangkok City Tower, Sathorn City Tower and AIA Sathorn Tower. Between offices, embassies and other business, there is plenty of people working in the area, generating rental demand both for Sathorn itself and for the areas down the Silom line, with many people commuting from more affordable Thonburi.