Thai real estate as investment
You might not be buying your property purely for investment - but whether you are looking for primary residence, for holiday home, for a place for your kid to live while they are going to university, for a place to retire - investment appeal is always a part of consideration. Thailand's real estate is and remains an attractive investment - however you don't have to take our word for it. Let's go through the basics.
Price levels
Despite healthy price growth (see in the next section), Thailand still remains reasonably affordable. According to Global Property Guide data, Bangkok ranks 32nd in the global rank of most expensive prime cities, with an average price per sqm of $5,255 - against Hong Kong's $28,570, London's $26,262 and New York's $17,191 (prices of 120 sqm apartments are used as a basis for comparison).
| # | Country/City | Buying Price, USD/sqm |
| --- | --- | --- |
| 1 | Hong Kong, Hong Kong Island | $ 28,570 |
| 2 | UK, London | $ 26,262 |
| 3 | US, New York | $ 17,191 |
| 4 | Israel, Tel Aviv | $ 17,149 |
| 5 | Switzerland, Geneva | $ 16,467 |
| 6 | Japan, Tokyo | $ 16,322 |
| 7 | France, Paris | $ 15,867 |
| 8 | Singapore | $ 14,373 |
| 9 | Austria, Vienna | $ 11,915 |
| 10 | China, Beijing | $ 11,829 |
| 11 | Canada, Toronto | $ 10,947 |
| 12 | India, Mumbai | $ 10,932 |
| 13 | Finland, Helsinki | $ 10,386 |
| 14 | Taiwan, Taipei | $ 10,373 |
| 15 | Norway, Oslo | $ 10,268 |
| 16 | Australia, Sydney | $ 8,783 |
| 17 | Sweden, Stockholm | $ 8,669 |
| 18 | Netherlands, Amsterdam | $ 8,558 |
| 19 | Czech Republic, Prague | $ 8,293 |
| 20 | Italy, Rome | $ 8,170 |
| 21 | Russia, Moscow | $ 7,818 |
| 22 | Germany, Berlin | $ 7,325 |
| 23 | Bermuda | $ 7,056 |
| 24 | BVI, Tortola | $ 6,469 |
| 25 | Spain, Madrid | $ 6,173 |
| 26 | UAE, Dubai | $ 5,918 |
| 27 | Luxembourg | $ 5,710 |
| 28 | Turkey, Istanbul | $ 5,680 |
| 29 | Malta, Valleta | $ 5,674 |
| 30 | Denmark, Copenhagen | $ 5,306 |
| 31 | New Zealand, Auckland | $ 5,272 |
| 32 | Thailand, Bangkok | $ 5,266 |
| 33 | Brazil, Sao Paolo | $ 4,833 |
| 34 | Portugal, Lisbon | $ 4,749 |
| 35 | Slovenia, Ljubljana | $ 4,535 |
| 36 | Greece, Athens | $ 4,488 |
| 37 | Barbados, St James | $ 4,467 |
| 38 | South Africa, Cape Town | $ 4,214 |
| 39 | Cayman Is., Grand Cayman | $ 4,163 |
| 40 | Estonia, Tallinn | $ 3,956 |
Thailand also hasn't yet joined the house price boom overseas. With residential prices in USA, UK and Australia growing at record pace in 2021, Thailand offers a more affordable, a more reasonable and - may we say - a more sustainable alternative.
Lower entry price also makes purchasing real estate here less disruptive for you, and on the other hand allows to create a diversified portfolio more easily, if you want to go there.
(Besides, where else can you buy a gorgeous 3-bedroom island sea view villa for $500,000?)
Capital appreciation
Thailand's prices historically have been steadily growing with average appreciation over 2011-2021 of ~4% per annum for landed properties country-wide and ~6% for condos.
Despite the obvious slowdown in property market during COVID, we expect the trend to continue with the reopening of the country and recovery of international travel.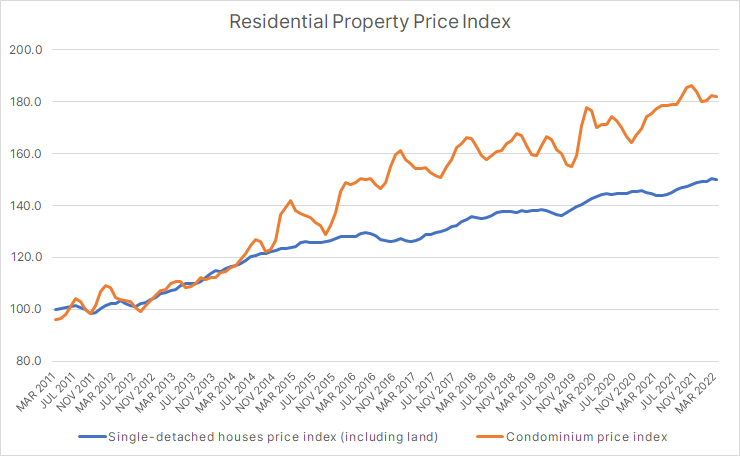 Source: Bank of Thailand
While demand in mid- and low-range remains sluggish (as of March 2022), there is strong recovery in certain sectors. Appreciation currently is largely driven by local demand for detached homes in major cities, as well as sustained demand for high-quality second homes and vacation homes in resort destinations. Worldwide trend towards bigger units and self-sufficient amenities are reflected in both demand and future supply pipeline.
👉 SUNWAY COMMENT
While developers in major resort destinations are largely close to being done going through pre-COVID unit inventory, it would be a generally good advice - in term of capital appreciation - to avoid areas with high amounts of oversupply, like certain parts of Pattaya. However, if you want to buy something affordable for self-use, high competition between sellers in those places can land you a really attractive price.
Infrastructure development
Thailand is in unique position where it already has most of the necessary infrastructure to maintain high living standards, however still has a lot of potential for development. Consider the following: out of 14 (existing and upcoming) mass transit lines in Bangkok, 6 are either under construction or are preparing to start construction. Out of 8 operational ones, all are, one way or another, scheduled for future extension. Every new subway or light rail station will lead to new areas coming into prominence (and land growing in prices accordingly).
This is not an isolated case, the country has multiple large-scale infrastructure developments, and countless local ones. Current Thai government made infrastructure its priority number one; private sector took note. Just a few examples. A new airport serving Phuket will be built in Phang Nga next to Sarasin bridge. New marina project is coming up on Koh Samui. There are several high-speed train lines in planning, including Don Mueang–Suvarnabhumi–U-Tapao high-speed railway connecting the 3 airports, and another international route connecting Thailand to China via Laos.
Moreover there are multiple large scale programs for industrial and commercial infrastructure development, including EEC (Eastern Economic Corridor) as well as comprehensive Thailand 4.0 economy development policy. The government shows a clear commitment investing in modern infrastructure, with 1.4 trillion THB commitment in 2022 alone.
Currency
Thai Baht is a robust currency that is considered by many a 'safe haven' currency among other emerging market currencies due to its stability.
Historical data by XE
While THB remained strong during 2018/2019, it depreciated during COVID pandemic, offering more attractive exchange rate for property buyers. Moreover, with international travel recovery and subsequent strengthening of THB you will be poised to make currency gains.
Ease of ownership
Thailand Condominium Act gives foreigners the right to fully, directly own condominium units. There are certain restrictions: foreign buyers cannot own more than 49% of total sellable area in any given project, money for condo purchase by a foreigner must come from abroad. Still, these are easy to comply with and are hardly prohibitive. Otherwise, you are free to sell your unit, rent it out, leave it to your kids as inheritance etc.
While foreigners cannot directly own land, in practice landed properties are often purchased under Thai company setup or as leasehold.
Rental yield
Thailand has consistently been one of top performers in Asia when it comes to rentals, only topped by Indonesia, Cambodia and Philippines.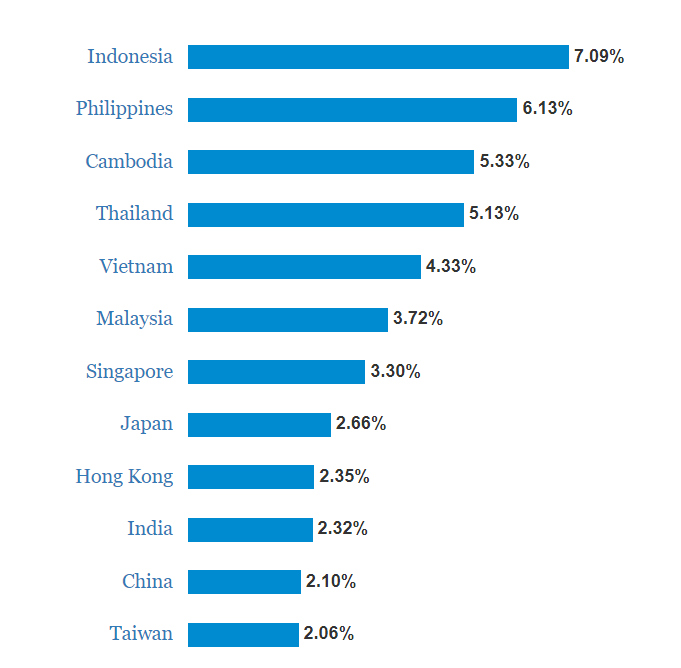 Data by Global Property Guide
(Note that these numbers are based on city center 120 sqm condos).
For the purposes of this article Thailand's rental market can be broadly divided into 2 segments: resort destinations and urban destinations. Urban destinations, for most of the foreign buyers, will basically mean just Bangkok.
We cover rental options in more detail in dedicated article, but we'll reiterate some of it here.
Resort destinations
These include Phuket, Samui, Pattaya, Hua Hin, Koh Chang and smaller coastal towns. The rental income here will capitalize on short-term daily rentals to tourists or on combination of long-term and daily rentals. Many of local properties will have some sort of rental management program in place, often with hotel management/branding. Owners have the following options:
Rental guarantee - normally offered in the new projects for several years after handover.
Rental pool - a program where the units of the project are managed in one or several rental pools with rental income shared between the management company and the owners.
Real estate management - traditional ad-hoc real estate rentals managed by the project management, 3rd party agency or owner themselves. Owner gets return based on their unit's actual rental gains, with commission being payable to the rental agency.
Normally depending on a property type, you can count on 5-8% net annual rental yield. More is possible with properties that are either exceptional, or exceptionally suited for rentals (or bought well below the market).
One thing to keep in mind about resort cities is that the demand there is seasonal, with highly defined low and high season, generally tied to local climate (although to be fair the difference in tourist flow during low and high season nowadays is not as dramatic as even 10 years ago).
Many buyers choose a mixed scenario, where they stay in their unit part of the year (this maybe European winter, or just an extended summer vacation) and rent it out rest of the time. This, of course, limits the rental yield (not just because the unit can't be rented out on the dates the owner uses it, it's also more difficult to schedule bookings around those dates), especially if the stay corresponds with high or peak season.
Generally buying in a resort city offers attractive returns, as well a degree of flexibility and lifestyle appeal.
Urban destinations
Bangkok. We're talking about Bangkok. Although Bangkok started seeing rental pool programs in the past several years (very few cases, mostly limited to a handful of mid-range hotel-branded residences), rental market here remains very conventional. A number of real estate agents can list your unit - as either as an exclusive or non-exclusive agent - and rent it out, mostly for long term - starting from 12, sometimes 6, months. Short-term rentals (like AirBnB rentals) are also common, but they are mostly either done to supplement long-term rentals, or used for apartments that are only available part of the year, or are done by owners.
Depending on property type, you can expect 4-7% yields for Bangkok properties.
Main advantage of Bangkok here is that it's a mature market that doesn't rely on tourism to the same extent as islands and offers more stability.
Property taxes
Thailand offers attractive taxation system when it comes to real estate.
We have a dedicated article discussing this topic in more detail: Taxes and transfer fees, but here is the gist:
Taxes and fees on property purchase
Total taxes on a purchase of a new freehold condo amount to 6.3% of the contract price:
Specific business tax - 3.3%
Transfer fee - 2%
Withholding tax - 1%
However normally developer pays most of it with the buyer paying only 1%.
In case of resale specific taxes can vary based on the property price and duration of ownership. It needs to be noted that in case of resale, appraised value is used for calculation of transfer fee and withholding tax, which is normally lower than transaction price.
On resale the taxes are normally split 50/50 between the buyer and seller.
In case of leasehold, the lease registration fee is 1.1% only.
The above amounts to the cost of buying and reselling a property way below other prime markets in Asia: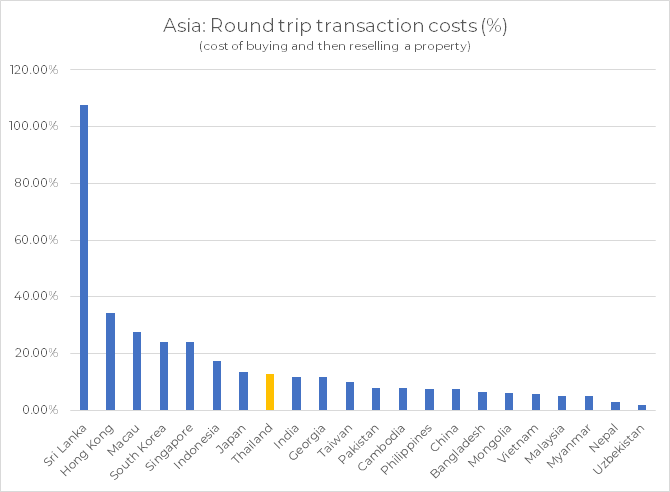 Based on Global Property Guide data
Recurring taxes
In 2019 Thai government introduced new Land and Building tax. For residential properties it has a ceiling rate of 0.3%, however current - as of 2022 - rates top at 0.1% for the highest price bracket.