The Headland Cape Yamu - Ultra luxury villas located at the tip of famed Cape Yamu
Price available upon request
Property description
The Headland is an exclusive collection of just 8 ultra-luxury villas located at the tip of famed Cape Yamu.
Cape Yamu is a private peninsula on the East Coast of Phuket - one of the island's most unique and secluded locations, a place well off beaten tourist paths meant for select few. Once an undiscovered area, known only to local fishermen, since 2000, with the help of such icons as the famed designer, Philippe Starck and leading architect, Jean-Michel Gathy, it transformed into a site for some of Phuket's most prestigious estates - Point Yamu, COMO resort, The Bay at Cape Yamu and now - Headlands.
The project lies on the secluded headland beyond Como Point Yamu Resort & Villas, in the most private and scenic part of the estate.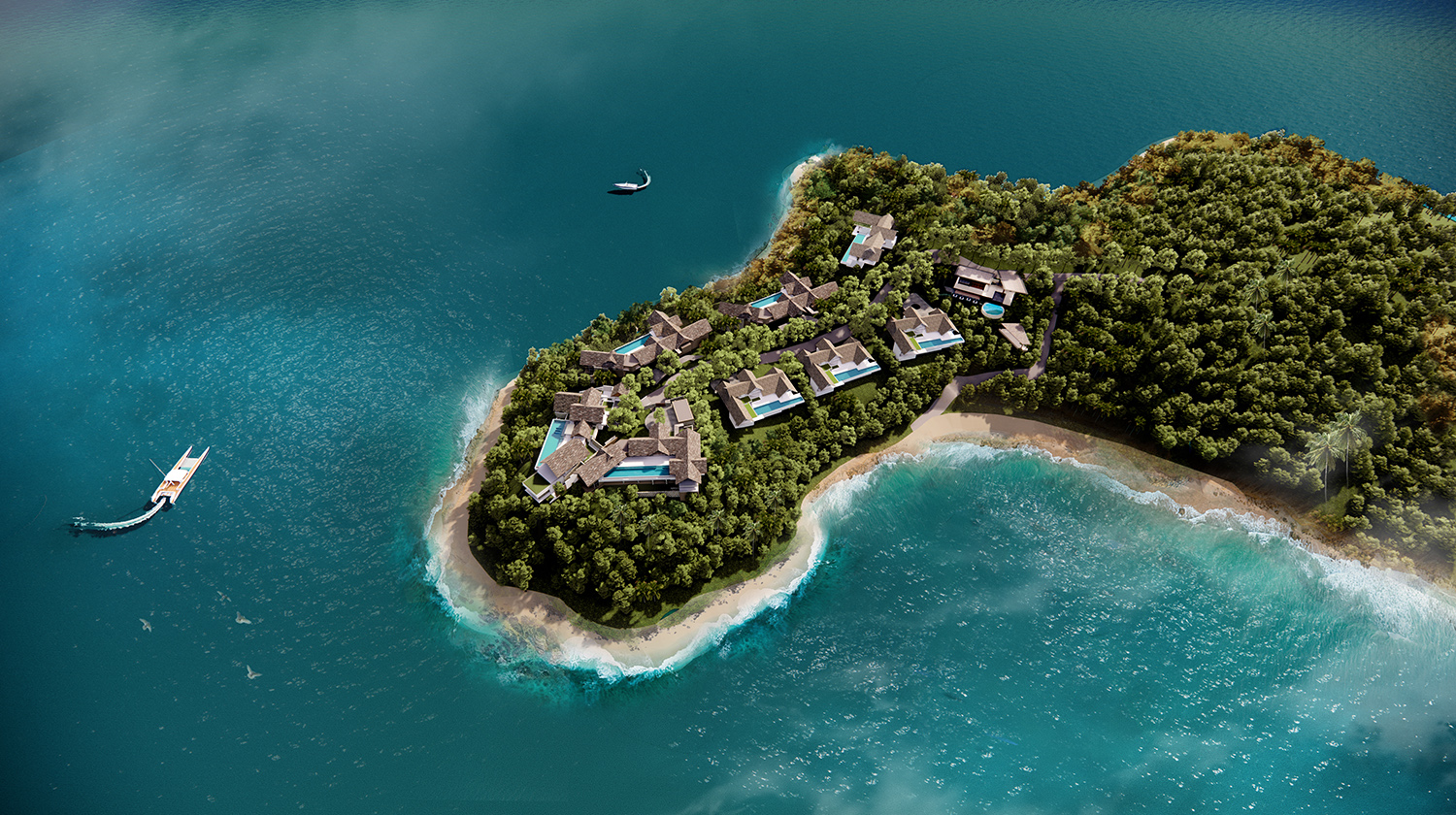 Each of the villas at the The Headland is designed to capture spectacular 300 views of sunrise and sunset over the Andaman Sea while offering a unique blend of signature tropical style and modern sophisticated architecture. Resting on 10 acres of land, each property comes on a substantial plot (offered with chanote title from the get-go, in a departure from previous Cape Yamu developments). Each villa offers 2000-2500 sqm of - meticulously designed and flawlessly built - interior and exterior space, including 4-6 bedrooms, large infinity pool and decks with panoramic views. The villas' open plan designs allows every area to connect with surrounding natural surroundings, offering uncompromised ultimate views, privacy and security.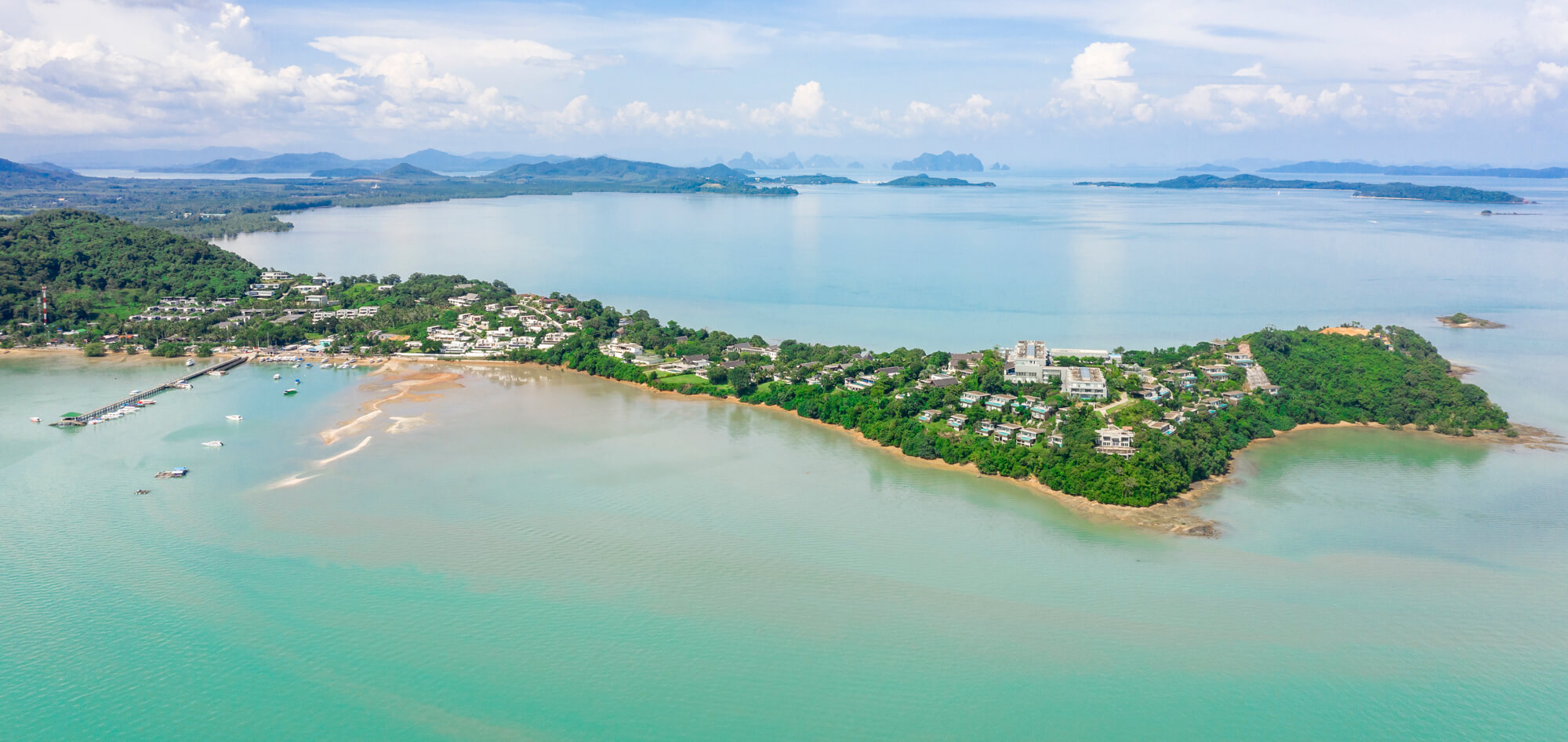 Cape Yamu is a private, gated community, with 24-hour security. The guests can enjoy a number of restaurants available at the estate, including La Sirena - a poolside Italian restaurant at the Point Yamu by Como - and NAHMYAA with its authentic Thai cuisine. The tenants also have the privilege of an exclusive access to the estate's beach.
The project is being developed by Campbell Kane and PPS Group. Campbell Kane is a company behind Point Yamu, COMO resort, The Bay at Cape Yamu and The Headland. Its director is Peter Hamilton - a previously Hong Kong resident who settled on Phuket a decade ago and became a major driving force in the transformation of Cape Yamu into elite destinations it is today.
PPS Group PLC - helmed by Dr. Phongthon Tharachai - is one of the leading engineering professional service companies in Thailand.
The project's singular architecture had been designed by Original Vision's Stephen Gorton.
Key features
Sea view
Beachfront
Pet-friendly
Villa
Freehold
Branded residences
Project information & amenities
Rental Management
Restaurant/café
Security
Parking
Investment highlights
A highly exclusive community and one of Phuket's top most-desired addresses
Just 8 luxury oceanfront villas with panoramic sea views
What is nearby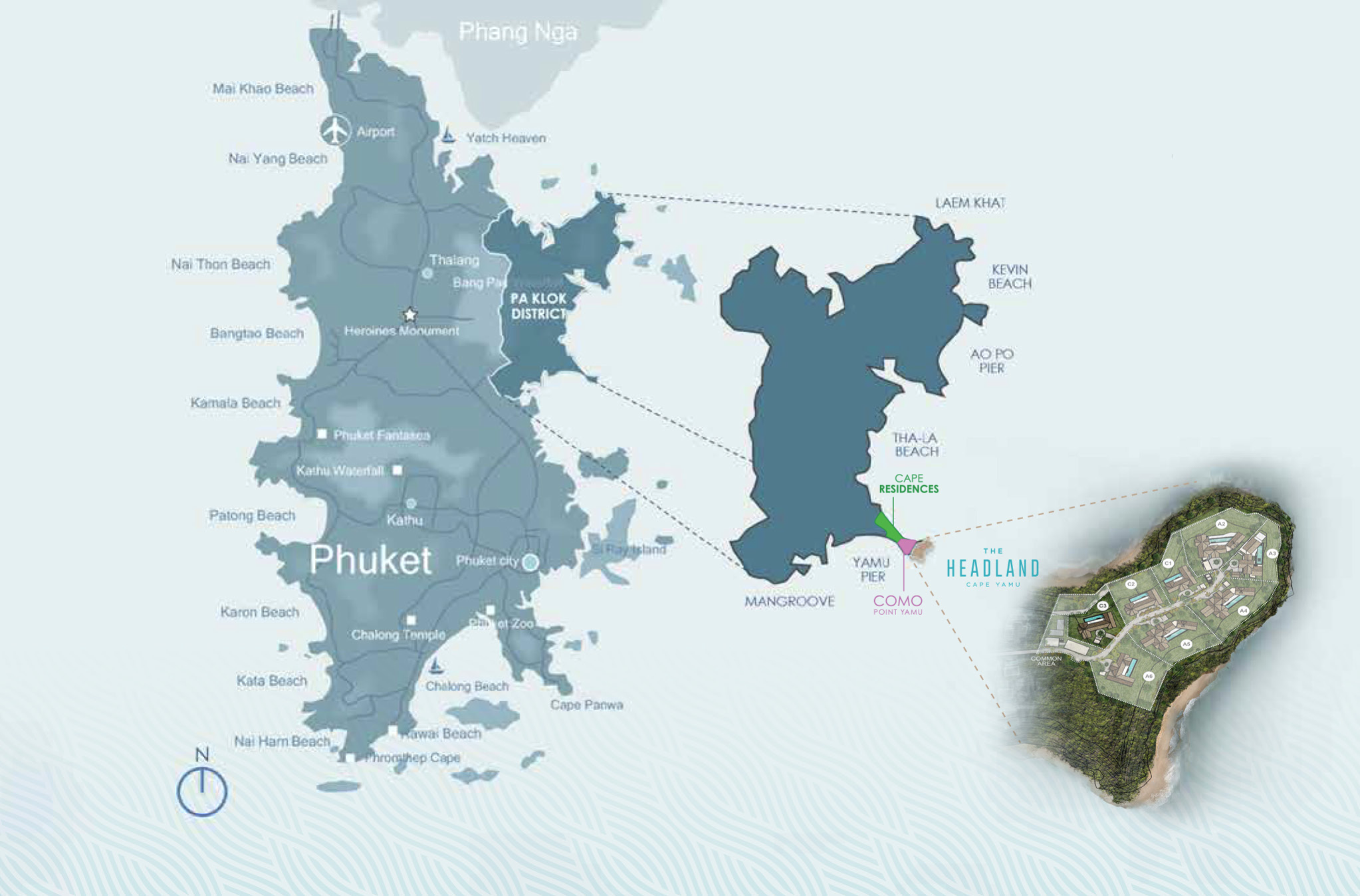 Headlands is located in the end of luxury Cape Yamu. The neighborhood consists of some of the most luxury villas and residences on the island.
Wrapped around the cape's tip, either side of the project boast panoramic sea views. To the East - on Koh Yao and Koh Naka with the the horizon stretching as Phi Phi Island. To the the South - Coconut Island and Phuket Town's recognizable shapes.
Completing this exquisite panoramic view is UNESCO World Heritage site Phang Nga Bay.
While Cape Yamu lies away from the noise and bustle of tourist areas, it's still within easy reach to the island's amenities:
Yamu Pier - 3 minutes
Royal Phuket Marina - 20 minutes
British International School - 20 minutes
Mission Hills Golf Course - 20 minutes
Bangkok Hospital Phuket - 30 minutes
Phuket International Airport - 30 minutes
Health & Wellness
Schools
Transportation
Lifestyle
Bangkok International Hospital Samui
Hospital
British International School
One of Phuket's most prestigious international schools
Phuket International Airport (HKT)
International airport
Royal Phuket Marina
World-class destination combining luxury waterfront living with an award-winning
Mission Hills Golf Course
A championship world-class 18 hole golf course
Units
| Unit | Price | Bedrooms | Bathrooms | Size m2 | Floor plans |
| --- | --- | --- | --- | --- | --- |
| Villa A | Price available upon request | 6 | 7 | 1350.00 | |
Developer profile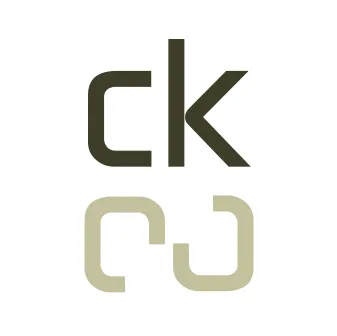 Campbell Kane is a property development company known for spearheading the development of the elite Cape Yamu estates. Its projects include Point Yamu, a COMO resort, The Bay at Cape Yamu and The Headland. Its director Peter Hamilton, formerly a Hong Kong citizen, has been Phuket resident since 2000s.
Campbell Kane is a multi-business company, and is also involved into film and TV in UK, as well as in software development.