Noble Form Thonglor - a new art-deco masterpiece condo in central Thonglor
Condo
1 – 2 Beds
1 – 2 Baths
Property description
Overview
Noble Form Thonglor - a new high-rise luxury condo in the middle of one of Bangkok's most prime areas - Thonglor.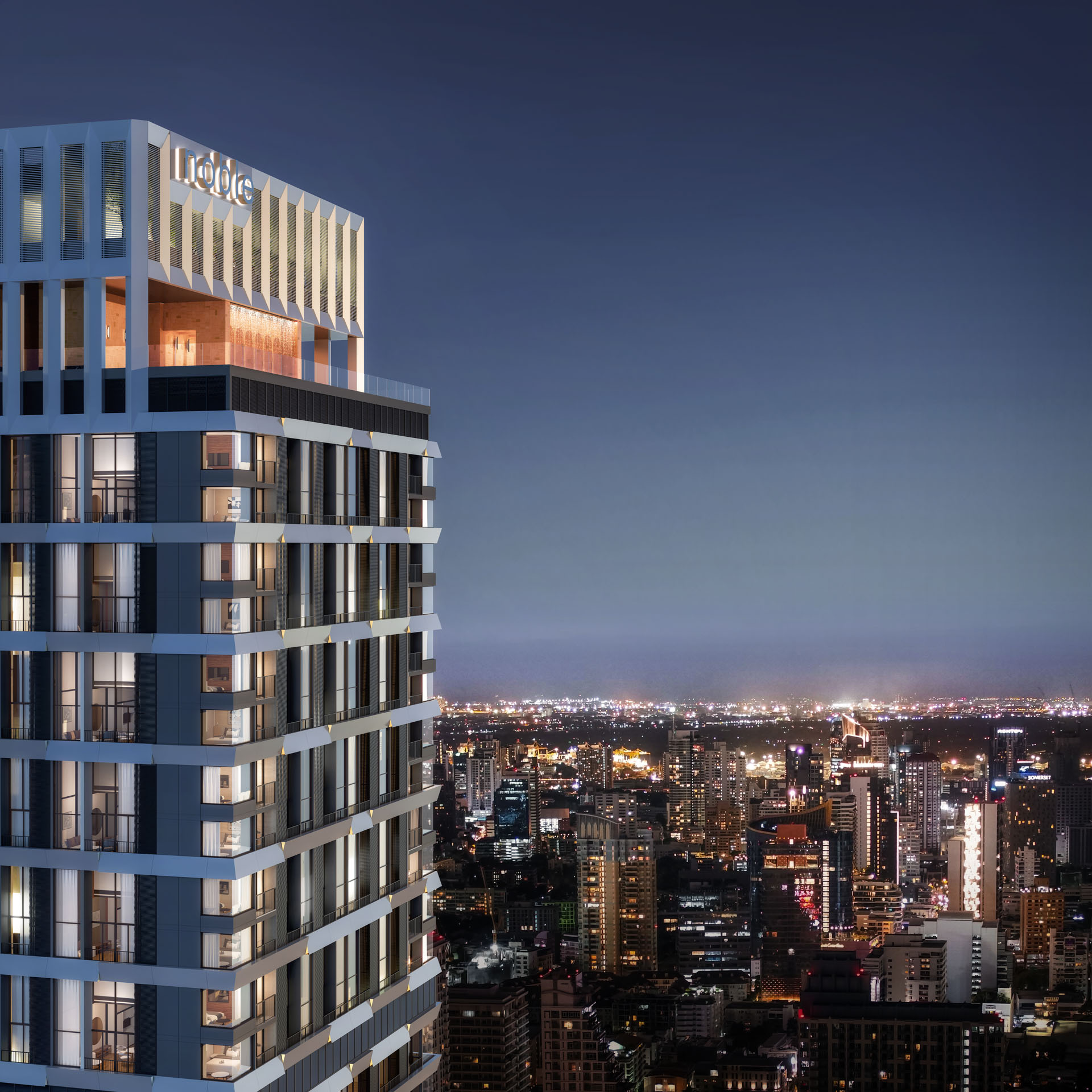 Thonglor had long been Bangkok's most popular area and home to the capital's best and most fashionable restaurants, bars and boutique stores. One of Sukhumvit's most walkable areas, dotted with community malls and hip hangouts, it's long been a scene for some of the most luxury condo projects you can find in Thailand - a high standard, but Noble Form holds up easily.
The project shows very insightful and functional approach to the architecture, layouts and common areas - all tied together with a unique art-deco-inspired design.

The unit selection includes 31.77 sqm 1-bedrooms, 52.2 sqm 1-bedroom+, 63.55 sqm 2-bedrooms, as well as 53.94 sqm 1-bedroom fullplexes and 76.17 sqm 2-bedroom fullplexes.
SUNWAY says:

'Fullplex' is Noble's improved and evolved take on the duplex idea. Normally in majority of duplexes/lofts the top level is shorter as the lower one (normally 1.9-2.1 m for the top level and 2.1-2.3 m for the bottom level), and only the lower level comes with a bathroom. In Noble Form both levels in these are created equal, proudly standing 2.3 m tall and each coming with a bathroom.
Noble Form, while elevating the landscape with a handsome 46-storey single tower, keeps prices surprisingly attractive for the area which understandably leads to keen demand.
Facilities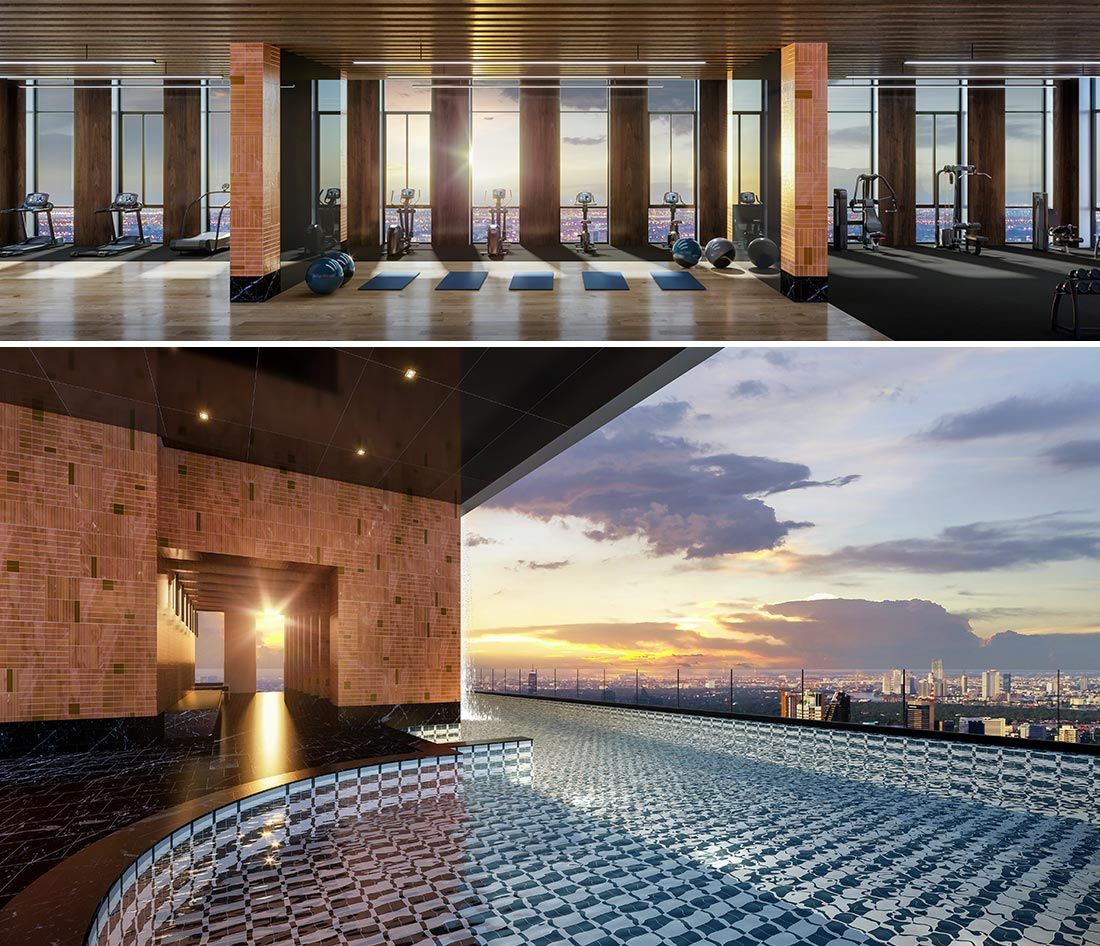 Noble Form's facilities are located in 3 main zones
Ground floor:
Urban Oasis garden
Art-deco lobby
Smart lockers
The Noble Social Club (37-38th floors)
Lounge
Library
Multipurpose space
Recreation Room
Sky Auditorium
Moon Bar
Roof zone (45-46th floor)
Sky Lagoon swimming pool
Semi-outdoor Jacuzzi
Kids pool
Water curtain
Pool bar
Steam room
Digital lockers
Cloud Gym
Yoga deck
Party space
BBQ spaces
Sky observation seating.
Key features
Q3 2024 Year Built
Freehold
Central location
Scenic views
Project information & amenities
Reception
Fitness
Communal swimming pool
Kids pool
Sauna/steam room
Yoga/meditation studio
Garden
Library
BBQ area
Meeting room
Screening room/cinema
Co-working space
Parking
Automated parking
Security
Concierge
Investment highlights
Investment highlights
Project by one of the best premium condo developers in Thailand
Prime location in the middle of Thonglor
The tallest building in the area with unparalleled views
Unique art-deco design bolstered by Noble's high quality standards
Following promotions available for Sunway clients:
Special presale prices are offered to early buyers.
Find out more benefits - contact us now!
What is nearby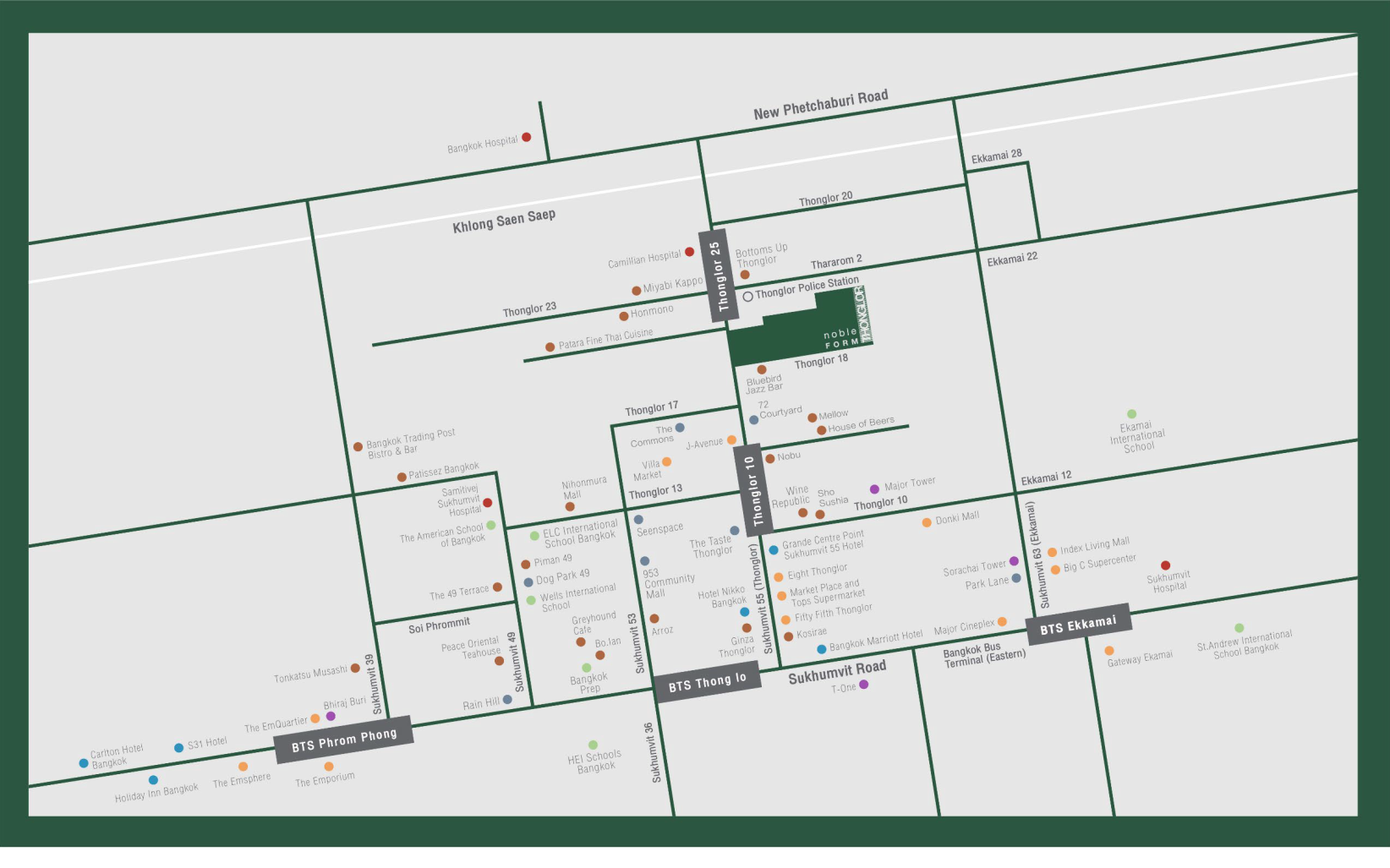 Noble Form is comfortably located on Thonglor Soi 18 right in the middle of Thonlor road - arguably Bangkok's most sought-after address. Those familiar with the area will know that it means one of the prime locations on the street - and by extension in the entirety of Bangkok. Within walking distance are many of the city's best restaurtants, bars, as well as some of Thonglor's hallmark hip community malls (specifically both the Commons and 72 Courtyard are within 150m walk).
Thonglor is the most popular area in Bangkok's Sukhumvit Road, offeromg a variety of social spots, including bars, malls, nightclubs, and lounges. It has always been a popular hangout for affluent and trendy Thais, as well as visitors who seek exciting nightlife and fine dining or casual restaurants. Nowadays, Thong Lor has become a prominent center for business and leisure with a unique and compelling vibe. One of the places to experience this energy is at J Avenue, Thailand's first community mall. There are plenty of restaurant options in the district, ranging from street food to local generations-old spots to healthy food shops to fine dining.
Transportation
Shopping
Health & Wellness
Schools
Eat & Drink
BTS Thonglor
Station on BTS Sukhumvit line
Eight Thong Lo
Compact & stylish community mall
Fifty Fifth Thong Lo
Modern indoor mall
The Commons
Contemporary community shopping space with eateries and art spaces
DONKI Mall Thonglor
Popular mall with many Japanese stores
J Avenue
Chic, airy retail and dining complex
Samitivej Hospital
One of Thailand's best international hospitals
The American School of Bangkok - Sukhumvit Campus
International school
Trinity International School
International school
Wells International School - Thong Lo Campus
International School
72 Courtyard
Thonglor's hip lifestyle complex is a home to some of the city's noteworthy restaurants and bars
Units
| Unit | Price | Bedrooms | Bathrooms | Size m2 | Floor plans |
| --- | --- | --- | --- | --- | --- |
| 1-Bedroom | ฿ 7,118,000 | 1 | 1 | 31.77 | |
| 1-Bedroom Plus | ฿ 11,800,000 | 1 | 2 | 52.20 | |
| 1-Bedroom Fullplex | ฿ 10,881,000 | 1 | 2 | 46.35 | |
| 2-Bedroom | ฿ 16,516,000 | 2 | 2 | 63.55 | |
Developer profile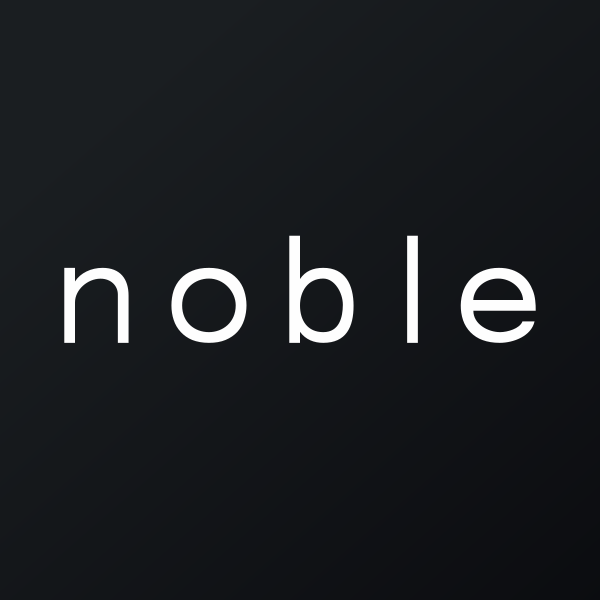 Noble Development PLC
Works since 1991
Noble Development PLC is a Bangkok-based developer offering wide range of products, from houses to high-rises. The company started their operations in 1991 with Noble Park condo, and since then had successfully completed over 50 projects.
Above everything else the developer is known for their premium condominium projects under Noble brand, however they also established Nue brand for more budget-friendly developments.
Noble listed its shares on the stock exchange of Thailand in 1997 (BKK: NOBLE).