Angsana Oceanview Residences - seaview residences by Banyan Tree in the heart of Laguna Phuket integrated resort
Condo
2 – 3 Beds
2 – 3 Baths
Property description
Angsana Ocean View is Banyan Tree's luxury low-rise, low-density condominium project in the heart of Laguna Phuket integrated resort area.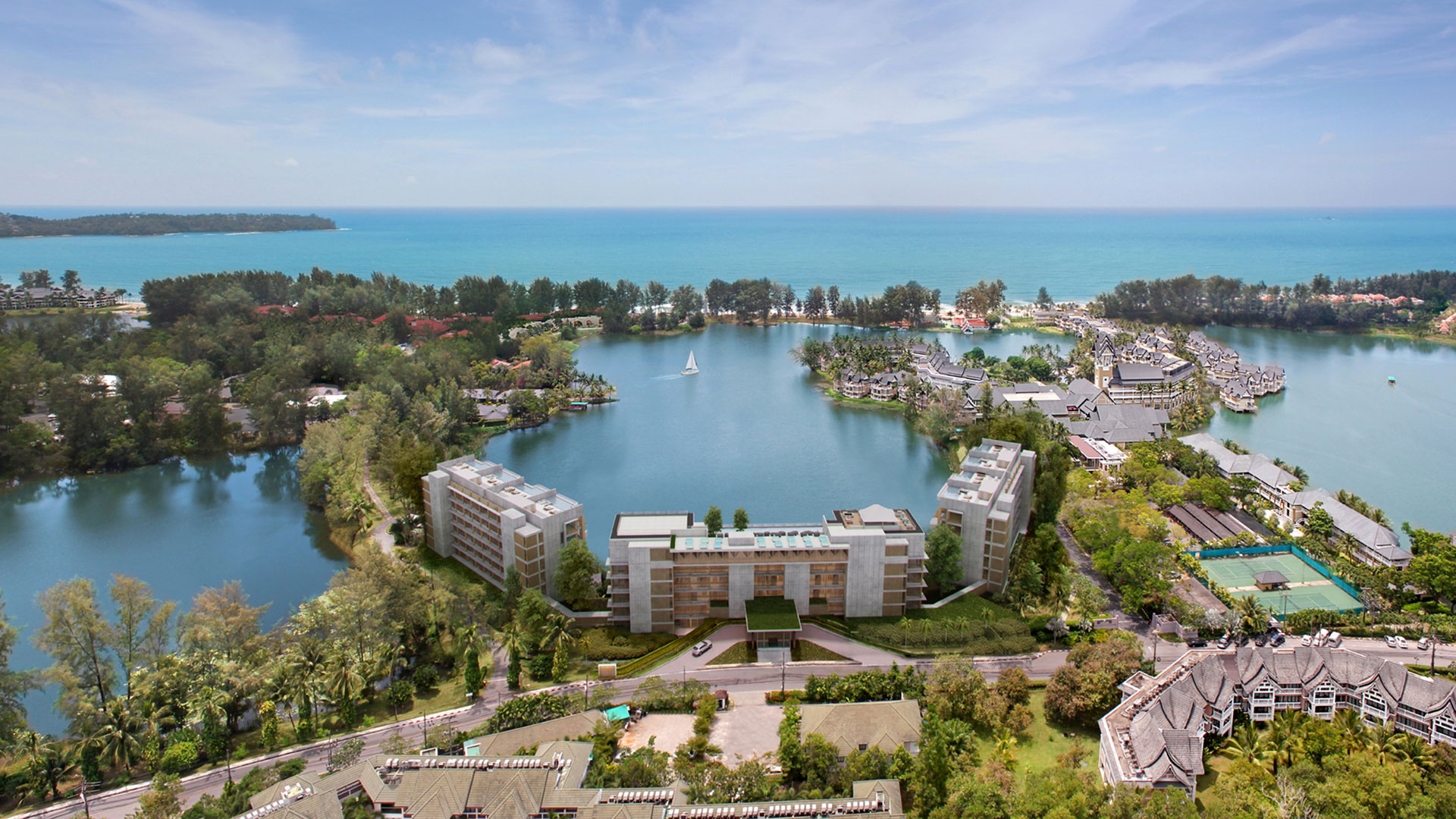 The project is directly adjacent to Angsana hotel, offering the tenants an access to hotel's facilities as well as a handy shortcut to the beach (and Xana beach club).
Angsana Ocean View includes 3 buildings, with building 1 sold out and buildings 2 and 3 currently (autumn of 2023) available for sale.
Each building features just 20-30 spacious (173 sqm+) units, each overlooking the lake and sea, each with a private swimming pool on the balcony. The top floors are occupied with 2-level penthouses that have their pools on their private rooftop terraces.
The project will have a 24-hour concierge and a professional maintenance and rental teams.
Banyan Tree Group and Laguna Phuket
Banyan Tree Group is a world-leading hospitality brand that operates resorts, spas, golf courses, retail galleries, and more in 20+ countries. The group is listed on the Singapore (as Banyan Tree Holdings Ltd) and Thai stock exchanges (as Laguna Resorts and Hotels PLC).
Angsana Oceanview is located at the central, oldest and the most developed part of Laguna Phuket - Banyan Tree's unique integrated resort occupying the entire center of Bang Tao beach. Since 1984, when the founders of Banyan Tree purchased the initial land plot, Laguna has developed to include 7 hotels, over 20 residential developments, a golf course, restaurants, a spa, retail galleries, and more. To property buyers, Laguna offers a secure, high-end neighborhood, hotel-standard maintenance of common grounds, developed infrastructure, and high connectivity. The entire area is developed around Laguna, so it's no surprise that all the main shopping and entertainment areas are within a short drive.
Bonuses and privileges
As with all Banyan Tree projects, Oceanfront Villas come with a treasure trove of bonuses, including:
Sanctuary Club card - Banyan Tree's membership program, which gives property owners discounts and privileges in all of the Group's properties worldwide
Laguna Golf membership
Complimentary Laguna voucher
Developer financing - which is something very rare in Thailand, especially since foreigners generally can't get bank financing
Other bonuses, including some rather exciting ones - contact us to find out more.
Key features
Sea view
Central location
Hotel management
Branded residences
Waterfront
500 m Distance to the beach
Project information & amenities
Communal swimming pool
Security
Reception
Shuttle service
Shuttle boat
Parking
Investment highlights
Great resort developer - Banyan Tree Group
Exceptional location: connected to Angsana Laguna Resort, 500 m from Bang Tao beach overlooking lagoon and the sea
Exceptional Banyan Tree maintenance team
Exclusive access to facilities in Laguna resorts
Spacious units with private pools
A number of bonuses from Banyan Tree, including developer financing
Following promotions available for Sunway clients:
Exclusive early access to the projects units as they open for sale.
Find out more benefits - contact us now!
What is nearby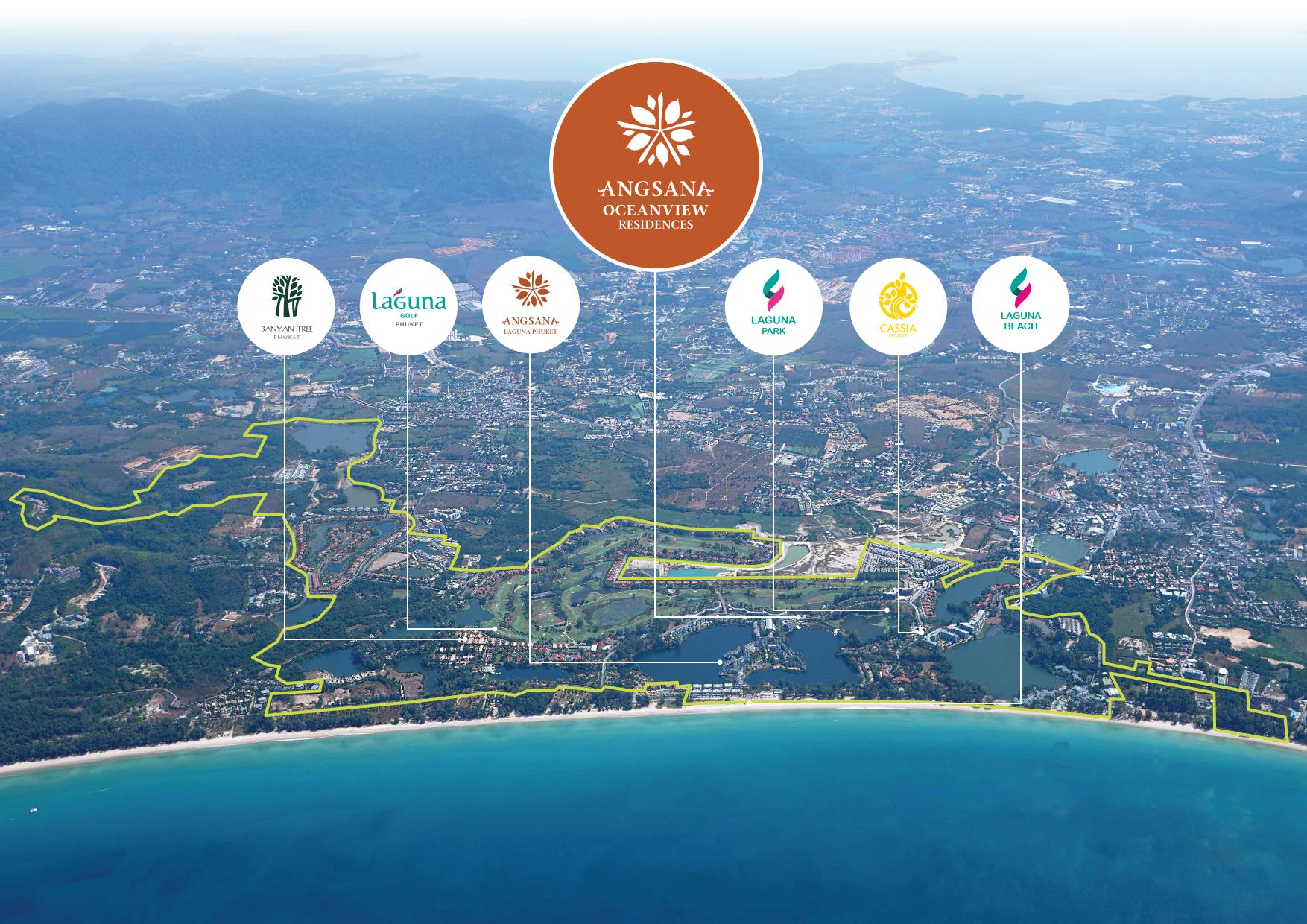 Angsana Oceanview is located at the central, oldest and the most developed part of Laguna Phuket - an integrated resort and high-end residential area in the heart of Bang Tao beach. This is probably the best area for higher-end residential projects on Phuket, which is well reflected by most of new luxury projects being built here.
The project is located in ~600 m from the beach. Residents can go to the beach through the grounds of Angsana Laguna Phuket hotel.
The Boat Avenue shopping area in Bang Tao is conveniently located just a 1.5 km walk (or a minute drive) from the project, as is the Porto de Phuket mall. The USW international school, one of the best on Phuket, is within a 20-minute drive, while Phuket International Airport is 25 minutes away.
Laguna Phuket offers an on-demand free shuttle service that can transport tenants to any place within Laguna, including the entrance to the Boat Avenue area.
👉 You can learn more about Bang Tao in our neighborhood guide:
Schools
Health & Wellness
Eat & Drink
Shopping
Lifestyle
Transportation
UWC International School
115/15, Thep Krasatti, Thalang District, Phuket 83110, Thailand
Banyan Tree Spa
Banyan Tree's upscale spa
Bang Tao beach
Popular upscale beach
Layan Beach
A quiet beautiful beach
Boat Avenue
Popular shopping and dining district
Porto de Phuket
Outdoor lifestyle shopping mall by Central Group
Laguna Golf
A premier 18-hole golf course in Laguna Phuket
Blue Canyon Country Club
Prestigious, historical golf club with two 18-holes courses
Phuket International Airport (HKT)
International airport
Units
| Unit | Price | Bedrooms | Bathrooms | Size m2 | Floor plans |
| --- | --- | --- | --- | --- | --- |
| 2-Bedroom Type A1 (Building 2) | ฿ 42,440,000 | 2 | 2 | 209.00 | |
| 2-Bedroom Penthouse Type C1 (Building 2) | ฿ 75,520,000 | 2 | 2 | 300.00 | |
| 3-Bedroom Type D1 (Building 2) | ฿ 54,260,000 | 3 | 3 | 281.00 | |
| 3-Bedroom Penthouse Type F1 (Building 2) | ฿ 100,880,000 | 3 | 3 | 395.00 | |
| 2-Bedroom Type B2 (Building 3) | ฿ 39,040,000 | 2 | 2 | 173.00 | |
| 2-Bedroom Type A1 (Building 3) | ฿ 45,750,000 | 2 | 2 | 209.00 | |
Developer profile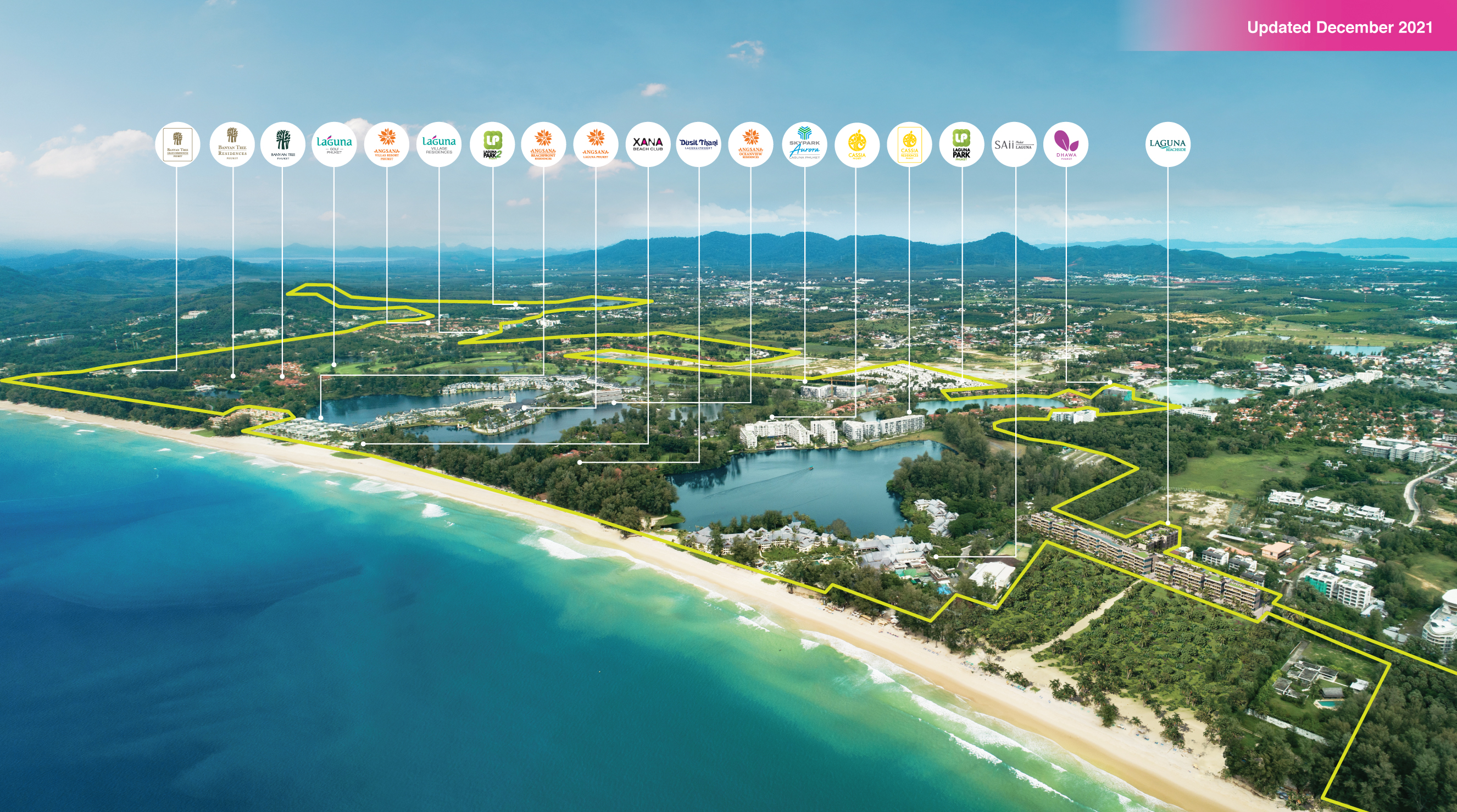 Laguna Resorts & Hotels PLC
Works since 1983
Laguna Resorts & Hotels PLC is a Thai arm of Singapore-based Banyan Tree Group. Banyan Tree is one of Asia's biggest hotel groups which that develops and manages resorts in Asia, America, Africa and Middle East. Its brands include Banyan Tree, Angsana, Cassia, Dhawa, Folio, Garrya and Homm. The group is also involved into property development in Thailand, Indonesia and Vietnam.
Most of their projects in Thailand are located within Laguna Phuket - Banyan Tree's integrated resort, occupying over 1000 acres of tropical parkland in the center of Bangtao beach. Laguna includes multiple hotels and residential developments, restaurants, spa, Laguna golf course, retail galleries and more, all on common territory maintained to hotel standards; it's one of the most sought-after destinations on Phuket.
The developer offers all the property buyers special privileges in all Banyan Tree properties worldwide; it is also one of the very few developers in Thailand that offer developer financing.
Banyan Tree is listed in Singapore as Banyan Tree Holdings Limited, and in Thailand as Laguna Resorts & Hotels PLC.
Construction progress gallery
View all
Similar properties
Phuket
360 Virtual Tour
Last unit(s)