Aspire Sukhumvit Rama IV - live the vertical life in fast-growing Phrakhanong
Condo
1 – 2 Beds
1 – 2 Baths
Property description
Aspire Sukhumvit Rama 4 is a new affordable high-rise project with rich facilities and excellent location in Prakhanong; it also, in our opinion, offers some of the best value on the market in Bangkok right now.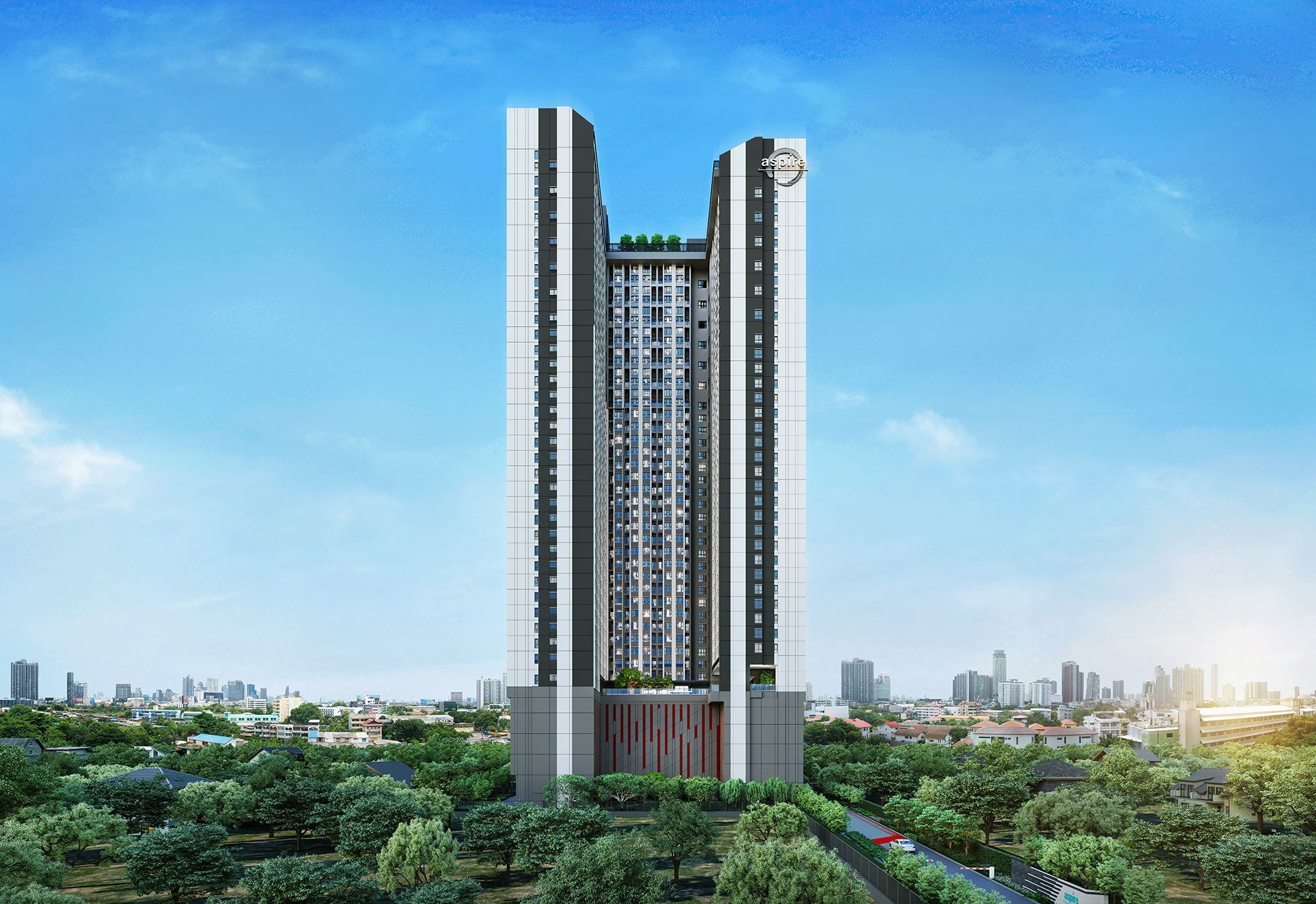 The developer of the project is AP Thailand in joint venture with Japanese Mitsubishi Estate Group. AP is one of the biggest property developers in Thailand with enviable track record, including on their Aspire condo lineup - that covers mid-range condominiums located in proximity to BTS and MRT. Aspire Sukhumvit Rama IV is poised to make a nice addition to the brand.
It's a single, 38-storey residential tower located on Rama IV road, in jsut 600 m from BTS Phrakhanong. The project will have over 5000 sqm allocated for common areas and facilities.
The project offers a number of layouts, including unique new double-level vertiplex layouts with 4.4m-high :
Simplex - floors 8-30
studio - 25 sqm
1-bedroom - 31-34 sqm
1-bedroom plus - 35 sqm
2-bedroom - 55 sqm
Vertiplex - floors 31-37
25 sqm (plus 10 sqm mezzanine floor)
30-33 sqm (plus 11-12 sqm mezzanine floor)
35 sqm (pus 11 sqm mezzanine floor)
52 sqm (plus 13 sqm mezzanine floor)
Vertiplex is the developer's interpretation of duplex/loft layouts with more emphasis on the volume. While many other developers try to fit in as much floor space as possible, with only a small portion of living room having two-floors-high ceilings (which, frankly, defeats the point of having a loft to begin with), Aspire is doing comparatively small mezzanine floors which allowed a bigger portion of the room to retain tall, double-height ceiling, creating airy, ample spaces.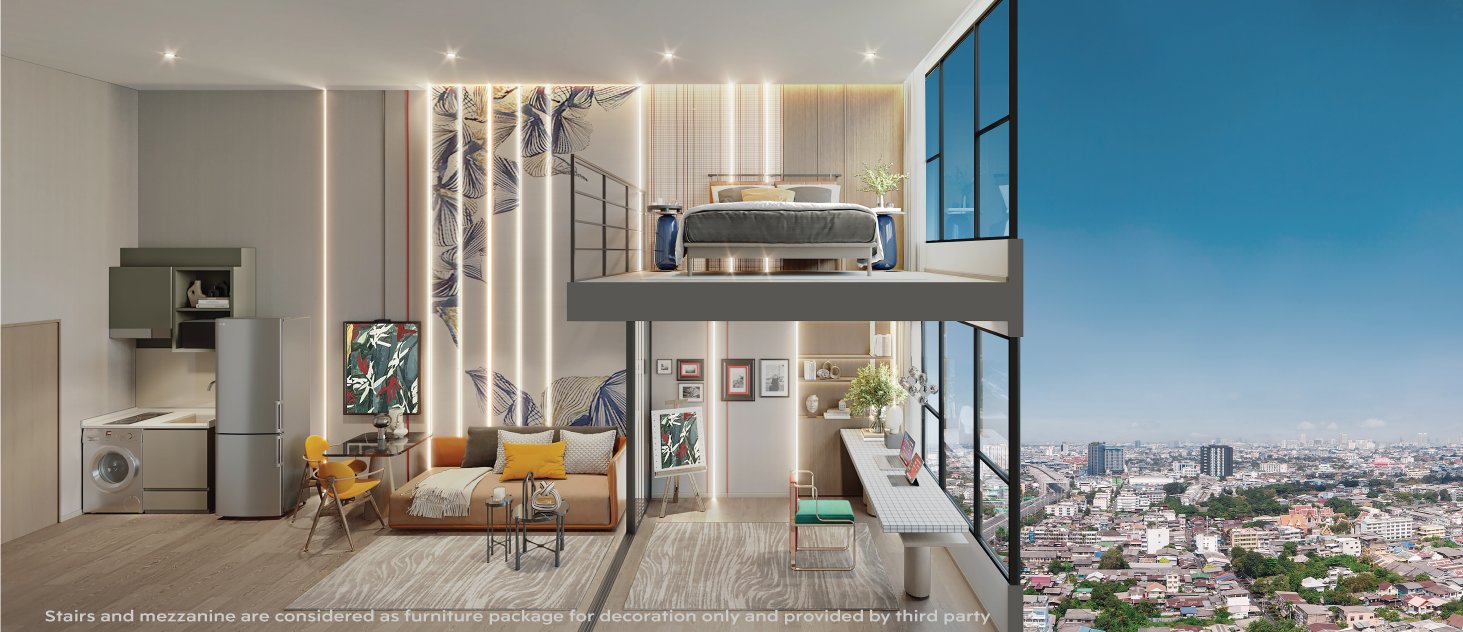 👉 SUNWAY says:

Note that Thailand law doesn't make a separate case for 2-level condos (like duplexes or lofts) so when buying such units, only ground floor area can be written down in the title deed. Thus you will often see the ground floor and mezzanine sizes written out separately in the price lists and unit plans. We indicate both sizes for clarity.
All units come fully equipped with kitchens that include a hob and an extractor, fully fitted bathrooms, wardrobes, laminated flooring, and air-conditioners. Additionally, a complete furniture package is available for purchse.
The project will be finished in June 2025.
Facilities
The project features over 5000 sqm of common space, which allows for a variety of facilities, spread over several zones.
G Floor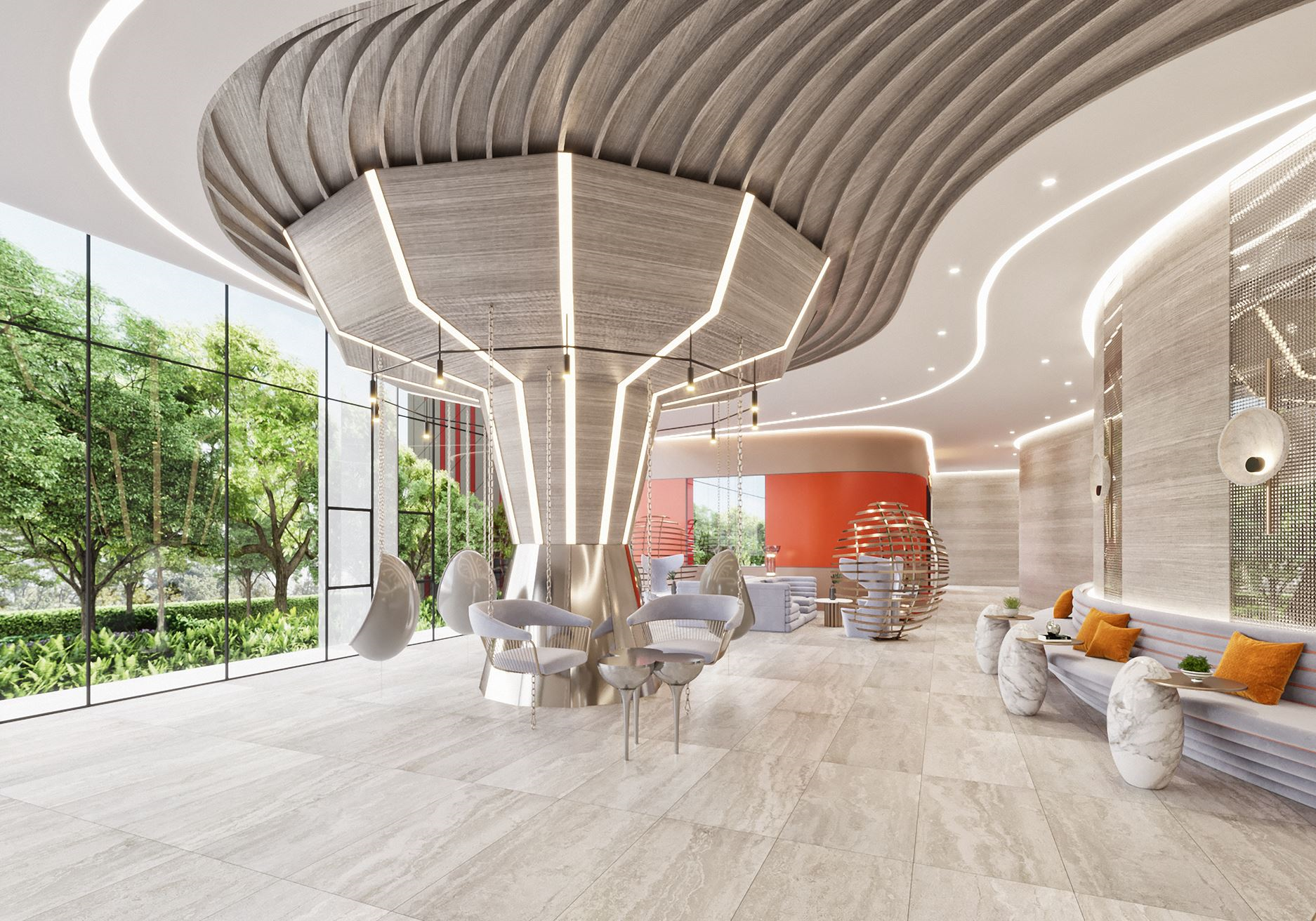 The drop off and pick up areas
The Oasis (garden)
The Aspire Common - common area for co-working and co-living; includes The Co-op Society (co-working and co-living space), The Meeting (meeting room), The Work Loft & The Chatroom (co-working space and room for informal meetings).
The Mail Room
8th Floor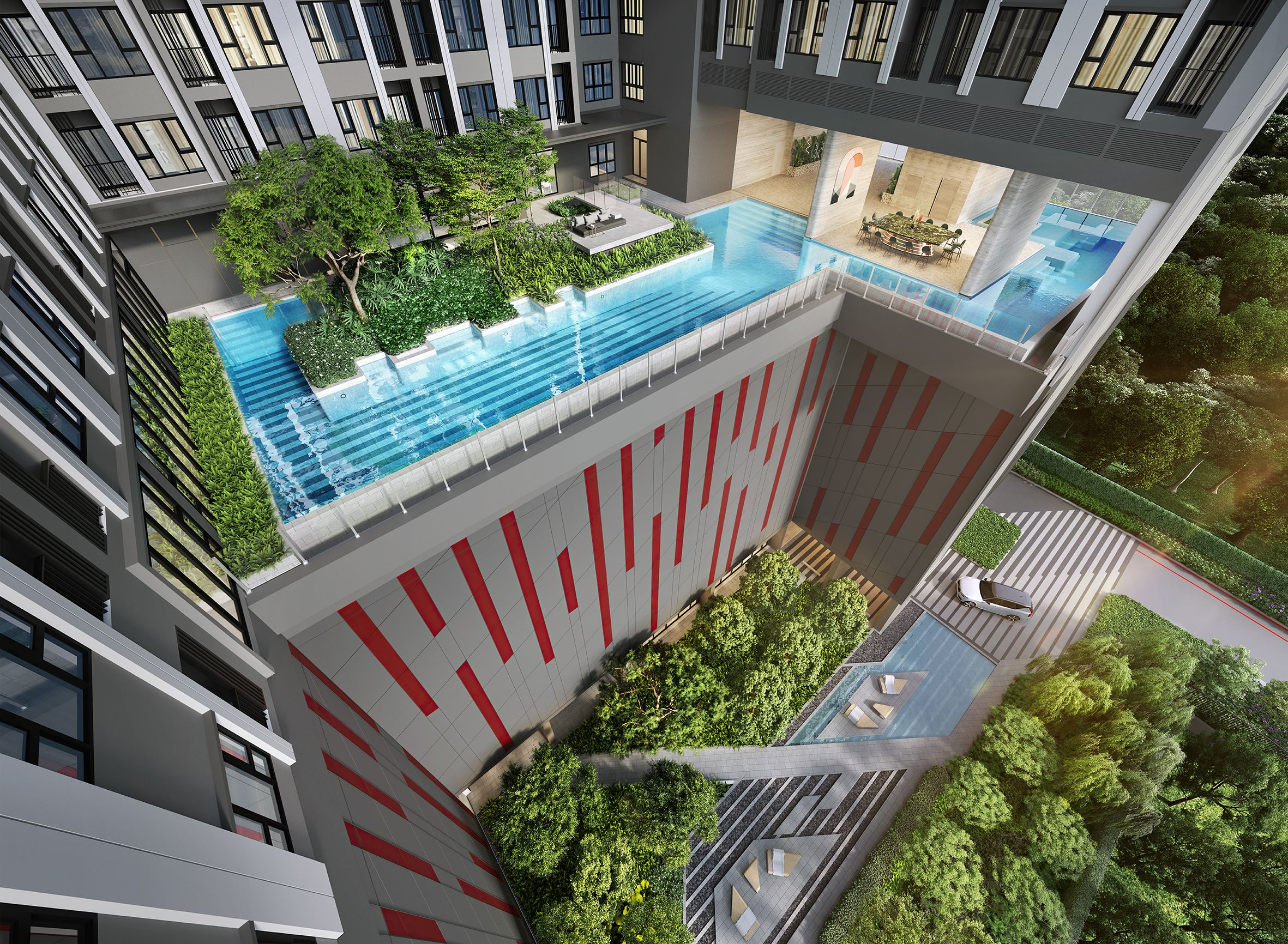 The Workout zone (including The Gym with circuit training, as well as The Ride cycling machine and treadmills)
The Island - a green island space surrounded by water
The Aqua - 25-metere salt pool
Hydro-fitness equipment, including Hydrotherapy Massage Jet system
The Club - retreat bar, wellness and work space by the pool
The Beachfront and Water Lounge hangout spaces
38th floor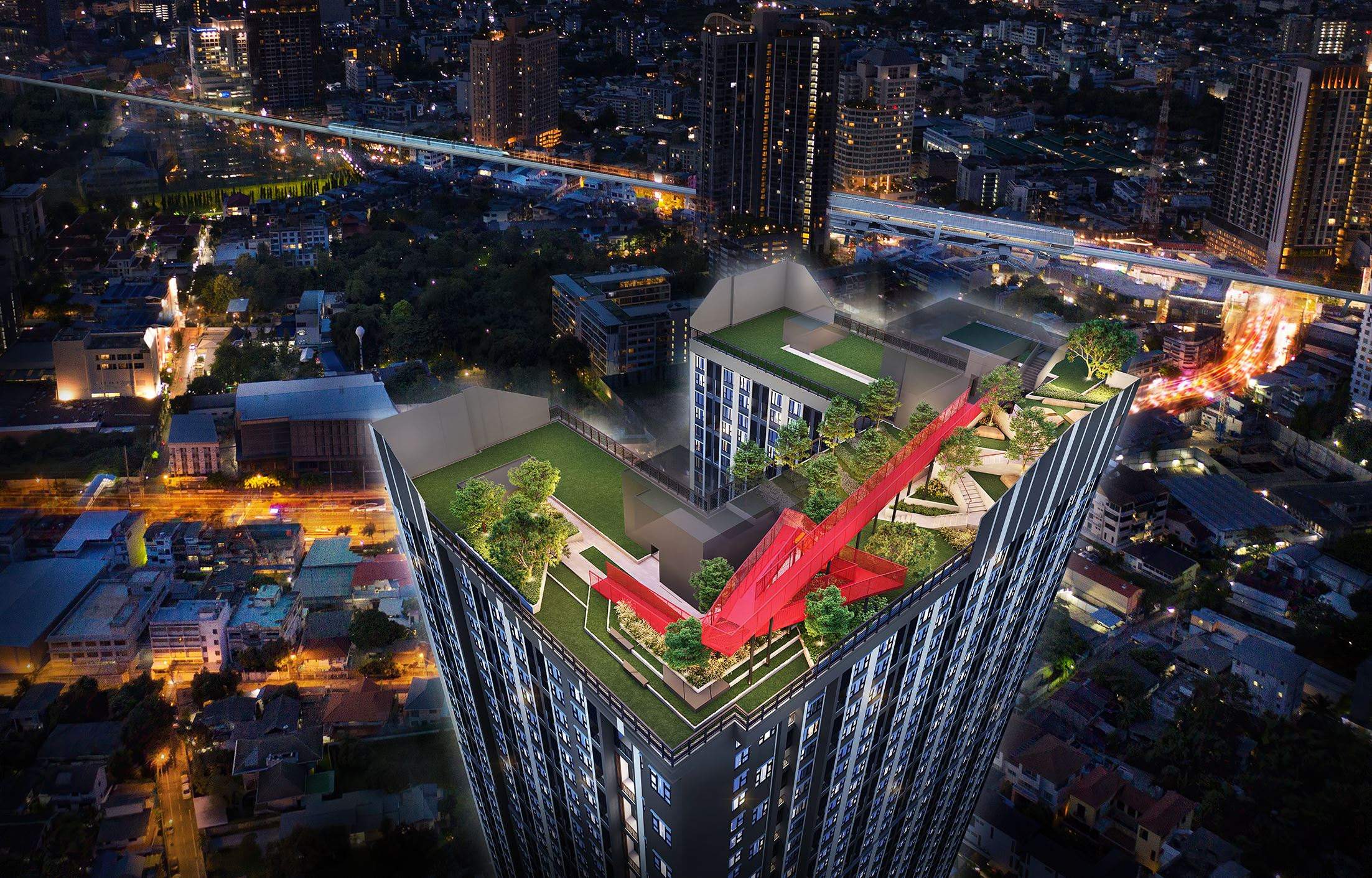 The Deck
The Cloud - green elevated sky garden
The Peak - observation deck with the views over Bankrachao - Bangkok's 'green lung'
The Flyover - extreme experience bridge (painted in crimson red which creates a uniquely designed rooftop space) with sky trail
Key features
Q3 2025 Year Built
Freehold
Central location
600 m Distance to BTS/MRT
Scenic views
1000 m Distance to international school
Project information & amenities
Reception
Fitness
Communal swimming pool
Jogging track
Garden
Restaurant/café
Meeting room
Co-working space
Parking
Security
Clubhouse
Investment highlights
Great location in Phrakhanong area, that will see excellent short- and mid-term appreciation,
20th joint development between AP Thailand (one of Thailand's biggest developers) and Japan's Mitsubishi Estate Group.
One of the best value offers on the market with prices starting from 113k THB/sqm in central Bangkok.
Accommodating payment terms with just 15% downpayment and the remaining 85% payable in mid-2025.
Qualified foreign buyers can apply for mortgages from Kasikorn Bank (for Hong Kong residents only), UOB and MBK.
Following promotions available for Sunway clients:
Special presale prices are available - contact us now!
What is nearby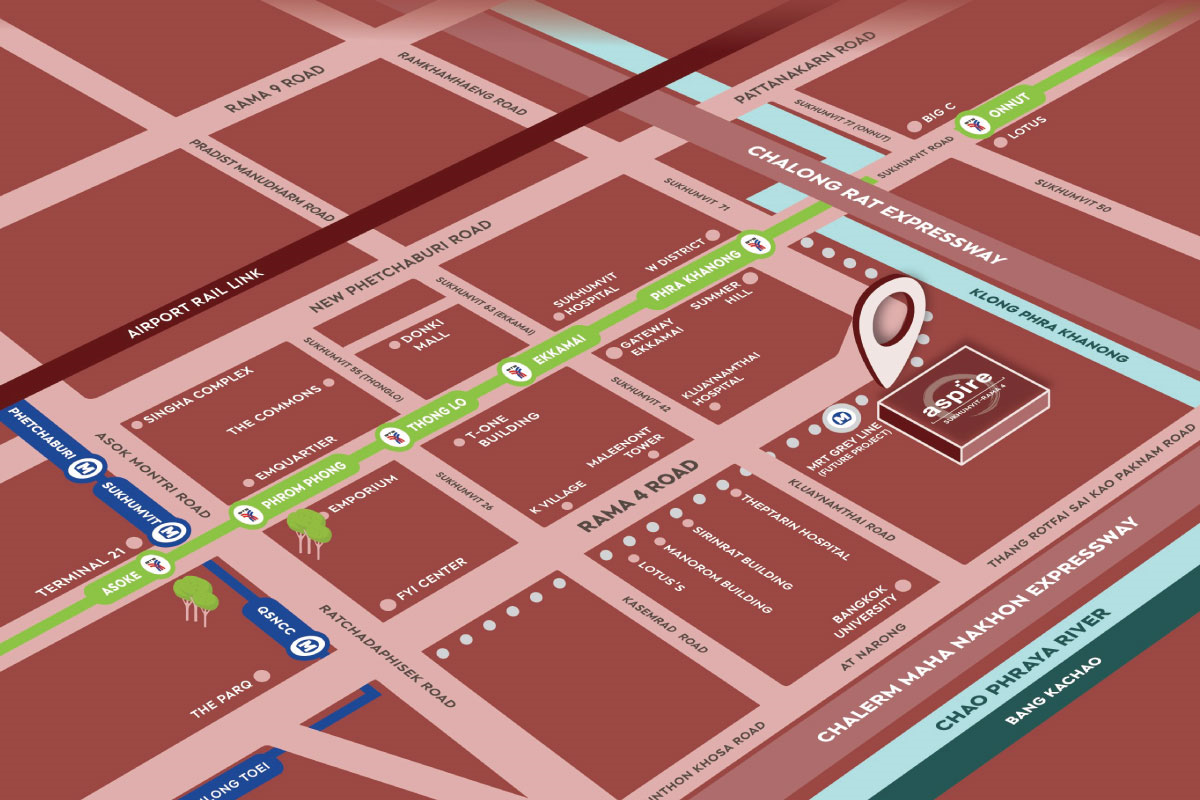 Aspire Sukhumvit Rama IV is located in Phrakhanong area, just 600 m from BTS Phrakhanong - just 1 station away from BTS Ekkamai and 2 - from BTS Thonglor. But it's a popular area in its own right, with a lot of dining and entertainment hotspots. The highlights nearby the project include:
BTS Phrakhanong - 600 m
W-Market - a hip outdoor food court decorated with art installations - 650 m
Summer Hill community mall - 700 m
42 Tee-Off driving range - 850 m
St. Andrews International School - 1000 m
Gateway Ekkamai
Sukhumvit International Hospital - 1200 m.
SUNWAY says:

As it stands right now (2023), Phrakhanong is a perfect choice for investment. While Bangkok has many new BTS and MRT stations going up right now and in the immediate future, Sukhumvit remains the 'main' street of the city and Central Bangkok grows along Sukhumvit. Until 2011 On Nut was the terminus of Sukhumvit line, and BTS Ekkamai was considered the city fringe. 5-7 years ago, Ekkamai was perceived as 'not-quite-central-Bangkok'. Right now there is 14 new stations past On Nut (which in itself became a popular, bustling area) and Ekkamai is - rightfully considered a part of city center. Phrakhanong is the next station after Ekkamai - and its time has come.
Apart from that, the project stands on Rama IV road, which allows for easy driving access to Bangkok's central business districts - Sathorn, Silom and Lumphini, as well as Asoke. And an easy shortcut to Sukhumvit allows access to any of the central Bangkok areas.
Transportation
Shopping
Health & Wellness
Schools
Lifestyle
Eat & Drink
BTS Ekkamai
Station on BTS Sukhumvit line
BTS Phrakhanong
Station on BTS Sukhumvit line
Gateway Ekkamai
Popular shopping mall with variety of stores and Japanese restaurants
Century the Movie Plaza
Modern mall with a movie theater.
Lotus's Sukhumvit 50
Hypermarket
Summer Hill
Cozy community mall with restaurants, supermarket and fitness
Sukhumvit Hospital
International Hospital
St Andrews International School
International school
42 Tee Off
Golf driving range
W Market
Outdoor food space for international eats, with art installations and events.
Units
| Unit | Price | Bedrooms | Bathrooms | Size m2 | Floor plans |
| --- | --- | --- | --- | --- | --- |
| Simplex Studio | ฿ 2,977,000 | 1 | 1 | 26.50 | |
| Simplex 1-Bedroom Type C | ฿ 3,505,000 | 1 | 1 | 30.00 | |
| Simplex 1-Bedroom Type D | ฿ 3,759,000 | 1 | 1 | 34.00 | |
| Vertiplex 1-Bedroom Type G (25 sqm ground floor, 10 sqm mezzanine floor) | ฿ 3,986,000 | 1 | 1 | 35.00 | |
| Vertiplex 1-Bedroom Type H (30 sqm ground floor, 11 sqm mezzanine floor) | ฿ 5,358,000 | 1 | 1 | 41.00 | |
| Vertiplex 1-Bedroom Type I (33 sqm ground floor, 12 sqm mezzanine floor) | ฿ 6,577,000 | 1 | 1 | 43.00 | |
Developer profile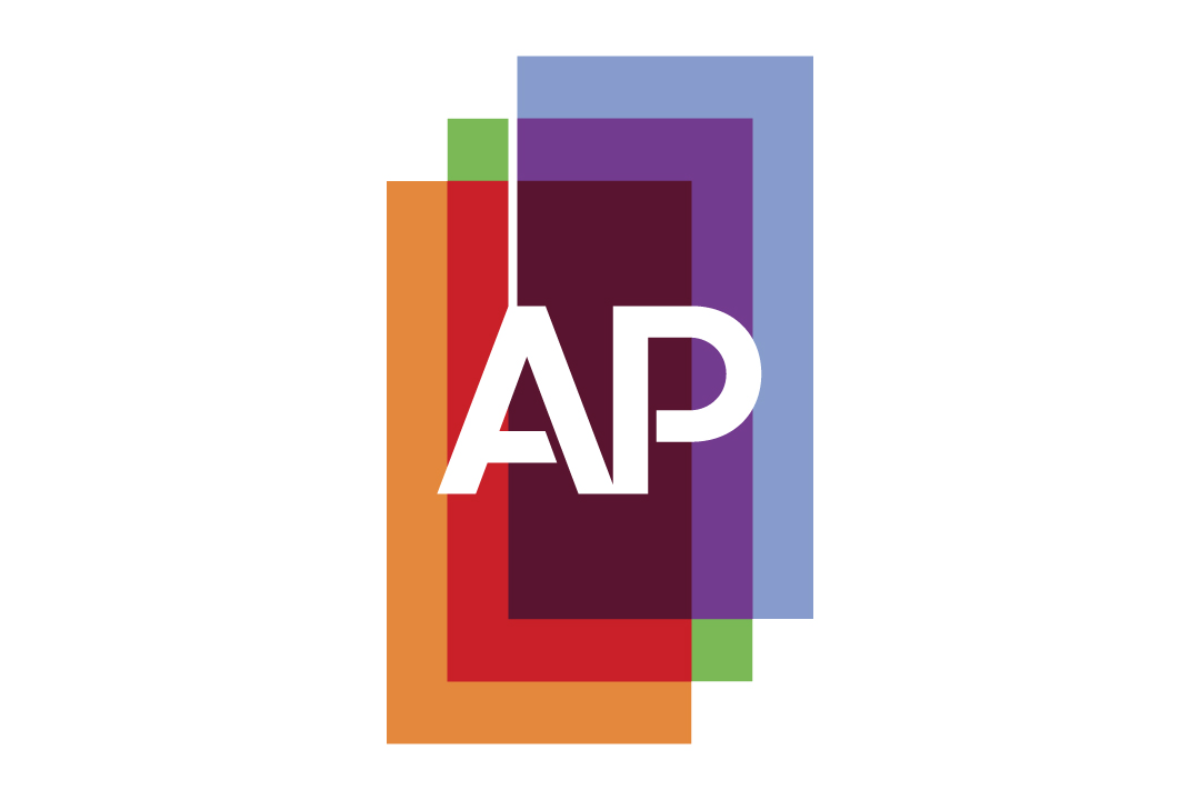 AP (Thailand) PLC
Works since 1991
AP (Thailand) PLC is one of the biggest property developers in Thailand, with over 30 years of history and over 300 completed projects. They have a wide product selection, from urban condominiums to housing projects upcountry and service full range of budgets. Some of AP's sub-brands include The Address, Rhythm, Life and Aspire condos, Baan Klang Krung, Baan Klang Muang, PLENO townhomes, The Palazzo, Soul, Mind, The City and Centro houses and District home offices.
AP has been founded in 1991 and listed on Thailand Stock Exchange in 2000 (BKK: AP).
Construction progress gallery
View all