Investment case study: buying a rental property in resort condominium
While you can find a number of articles on the property purchase process and investing in real estate on our website, we at Sunway Estates find that nothing beats a good real life examples. So we decided to reflect on some older cases and really get into the minor details, to give a good, transparent breakdown of (1) what is the process like, (2) what are all the actual costs and fees on a real estate transaction, (3) what are the real-life returns and appreciation in Thailand and (4) what is our approach for selecting the best available property for clients.
Without further ado - the case. One of our clients - let's call her Ms. H - wanted to buy a condo or house for investment. She visited Thailand quite a few times, was familiar with the most popular tourist destinations and saw that the rental market is hot and a well-informed purchase can be quite lucrative. So she wanted an advice on finding the best available option.
Mrs. H requirements were as follows:
A property with good rental yield.
Hands-off property management.
Budget under 150k USD for the first investment.
Let us walk you through the process of unit selection. The first thing you need to consider is always:
Location

When you want to find a good location, the first questions you need to ask is 'good for what?'. Since the client doesn't have any specific preferences and doesn't plan to live in the unit themselves, we can focus purely on the investment value. The latter comprises 2 parts: rental yield and appreciation. So Ms. H needs an area that has:
High rental appeal. For Phuket, being a resort destination, it will mean, first and foremost, daily rentals.
High potential for price growth. This means either a coming-up area, or an area with large scale infrastructure or commercial developments in the near future.
Not overly high price levels, so that she can get a good unit under 150k USD.
We suggested Nai Yang. It's a quiet secluded beach, not far from the Phuket international airport. While it's not the most well-know destination on Phuket, it still has many tourists coming to enjoy its beautiful beach, lush tropical greenery and relatively unspoiled spirit of 'Old Phuket'. It's also way cheaper than more mainstream areas (Patong, Kamala, Bangtao etc) - but it will not stay cheap for much longer. Northern part of Phuket is seeing a lot of development, part of it is purely organic, coming from the fact that the land is becoming scarce in nearby Layan and Bangtao, part is driven by some large-scale developments coming up. One of them is government's 4B THB investment into a new international medical hub in Mai Khao, another one - is a new upcoming airport in Phang Nga, not far from where Sarasin bridge connects Phuket to mainland.
All of this allows Ms. H to buy a unit at a good price now and enjoy growing rental yield and capital appreciation in mid-to-long term.
Project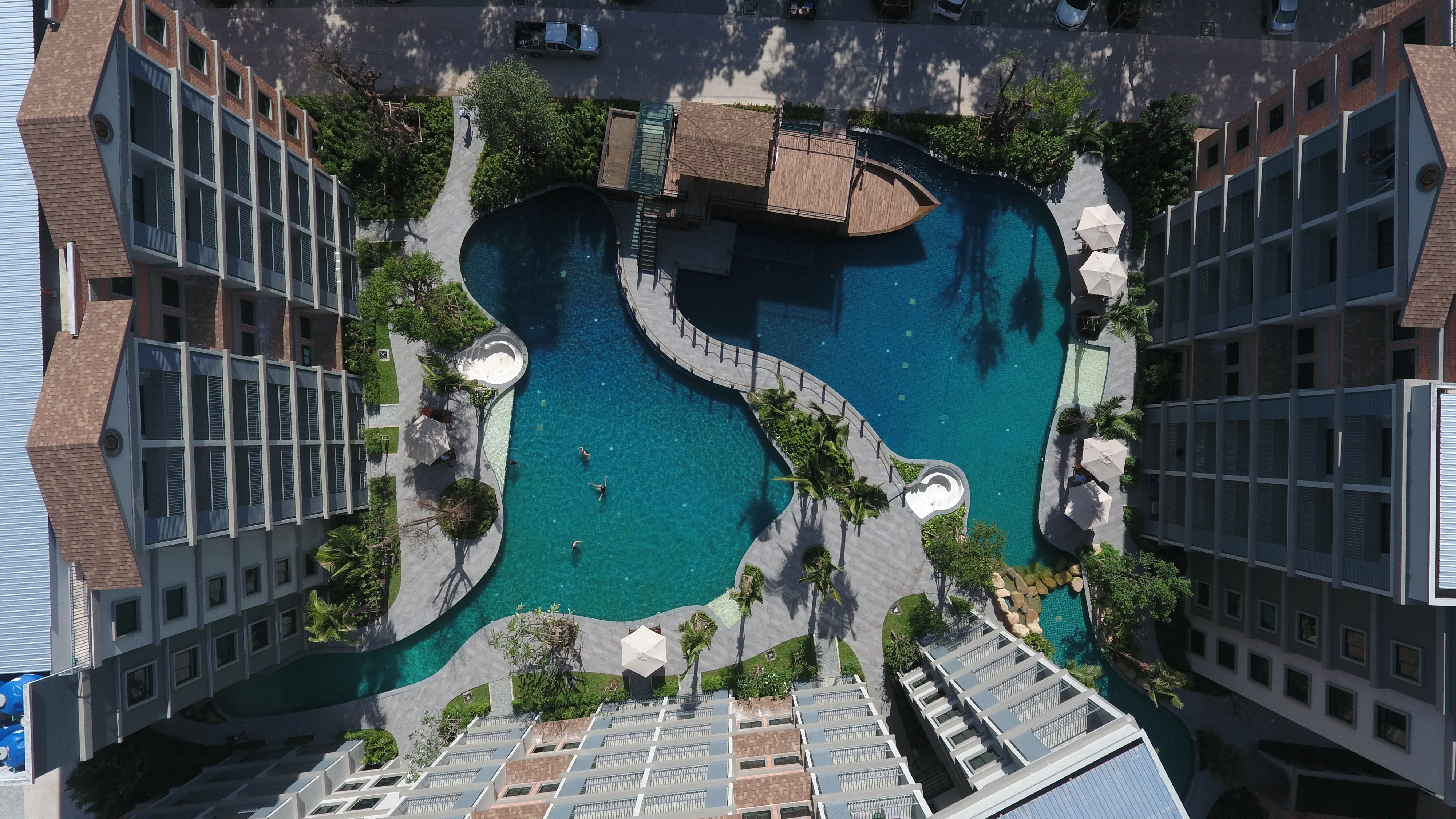 Once you've chosen the area, the next step is considering available projects. In order to assure Ms. H's unit generates stable, above-the-market income without requiring too much attention and time from her already busy schedule, the project would need to satisfy the following conditions:
Proximity to the beach (Nai Yang is largely a pure beach destination, so tourists won't want staying too far).
Good resort-level facilities and common territory (people coming for vacation to a resort want it to feel like a resort).
Competent and sustainable rental management program.
Reputable and reliable developer.
The project we suggested was Title Nai Yang. It's a resort-style, low-density development in just 400 m from Nai Yang beach. It has extensive common area (occupying over 60% of the project's land) with multiple swimming pools, gym, spa and plenty of green spaces, creating a laid-back resort feel. The developer is a listed company with an immaculate track record, and they have an excellent rental team that has proven itself in their previous 3 projects - they offer guaranteed rental income for the first 2 years and rental pool after (or instead of) that. All boxes checked.
Unit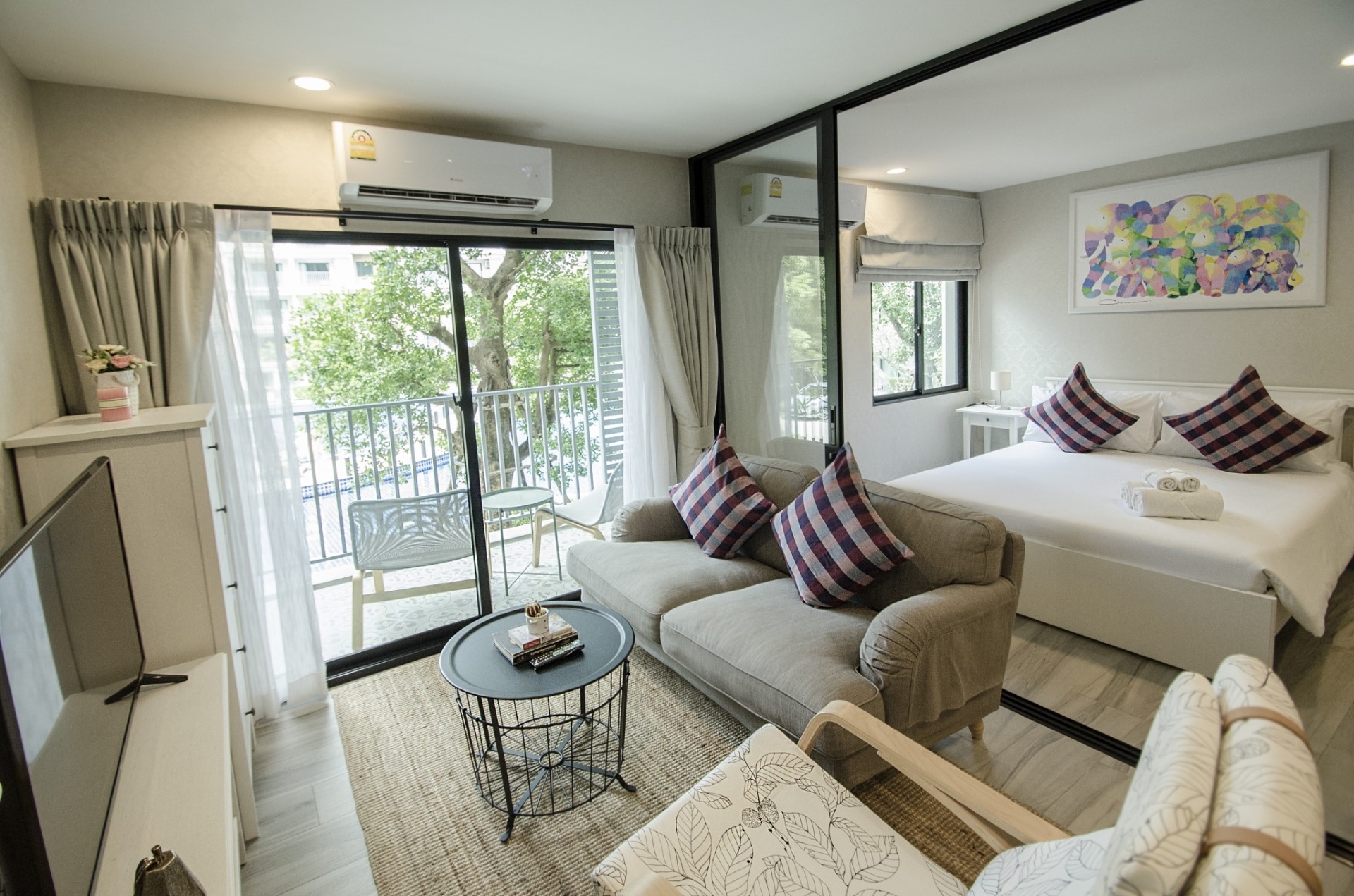 Developer's rental program in Title Nai Yang is offered on rental pool basis - meaning that the units are combined in a common pool, and the rental income from them is pooled together and split proportionally between all owners (helping the developer to maximize the overall income instead of trying to rent out all the units equally, and also ensuring that your income is more predictable). It means that if you opt in for developer's program, you don't really have to be concerned about choosing the most appealing unit rental-wise. But that will never stop us from trying! So (without divulging too much private information) we recommended Ms. H a nice pool-facing unit on the high floor at a 3.6M THB. Adding freehold fee and furniture package, the final cost is 4.03M THB - well under 150k USD budget.
Expenses and payment schedule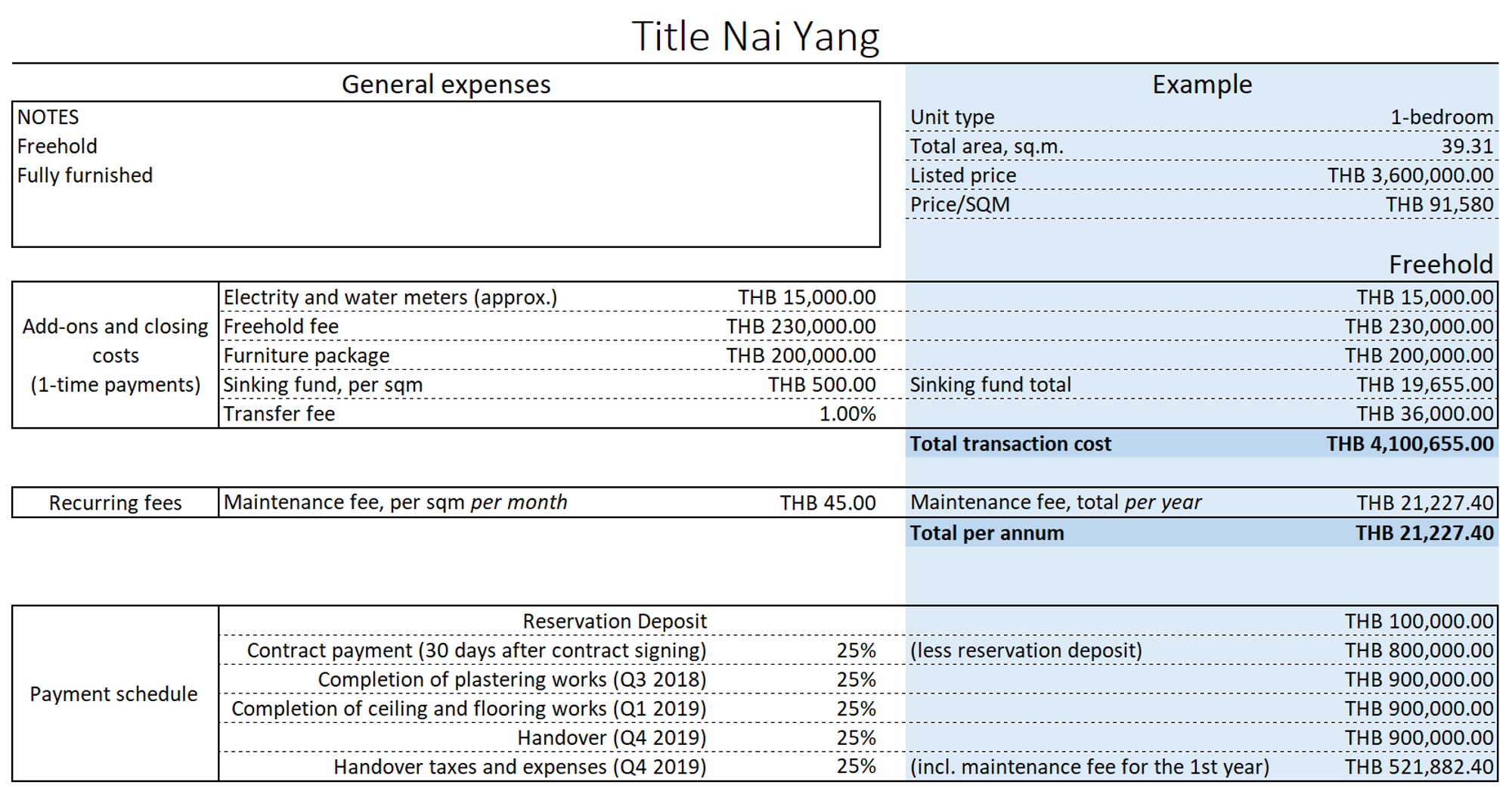 Main additional costs were, as noted previously:
Furniture package. In this case we advised the client to go with the developer's package, since (1) it's actually a pretty good value and (2) they need to have standard one in order to participate in the developer's rental program.
Freehold fee. On Phuket developers normally offer leasehold (long-term 90 years lease) and freehold ownership option, with freehold available for additional fee. While if you are looking purely to maximize your rental yield, leasehold might be an option, we generally advise spending extra on freehold.
On taxes: when purchasing freehold condominium in Thailand there are withholding tax, transfer fee and special business tax to be paid (you can read more in our respective article), total of about 6.3%. In most cases the developer bears the brunt if it, leaving the client to pay only 1% (as is the case here).
Another payments are sinking fund (one time contribution to the fund that is used for capital repairs of the project over its lifecycle) and maintenance fee for the first year (it's a monthly fee that is used to cover ongoing expenses of the condominium operation, like pool cleaning, gardening, security, common areas electricity etc; normally it's paid annually, 1 year in advance).
As you can see above, when you are buying an offplan condo under construction, you don't need to pay 100% of the price immediately. The developers offer interest-free installment plan for the duration of the construction, which means you normally have a couple years to pay it in tranches.
Rental appeal and capital appreciation
We prepared the following rental forecast for the client:

If you paid attention to the dates in the payment schedule above you have already spotted an elephant on the room. The project was finished in December 2019 - a literal month before COVID 19 pandemic started - which as you can imagine could ruin any prospects for rental income for a new property owner. Except it didn't. We mentioned it before - the apartment came with a rental guarantee for the first 2 years - 7% per annum. The developer, being a big public company, honored the guarantee (for this condo, they actually paid the whole amount for 2 years in advance), so Ms. H was happily 100% protected from the market slump of the early pandemic times.
And about our initial estimate. After the rental guarantee expired, with the market already starting to recover in later 2021 and blowing past pre-COVID number in 2022-2023, our forecast had proved to be very conservative. You can see the rental rates yourself, on the project's rental management company's official Booking.com listing: https://www.booking.com/hotel/th/the-title-residencies-naiyang-emuue-ngphuuekt.html.
The same goes for appreciation: today if you want to buy a comparable new unit (same size, location, furnished, freehold) you'll need to spend at least 4.9M THB - after after factoring in all the extra expenses on the initial purchase, this will give us a healthy 20% (net) appreciation over 3 years - bulk of which was COVID pandemic.
Conclusion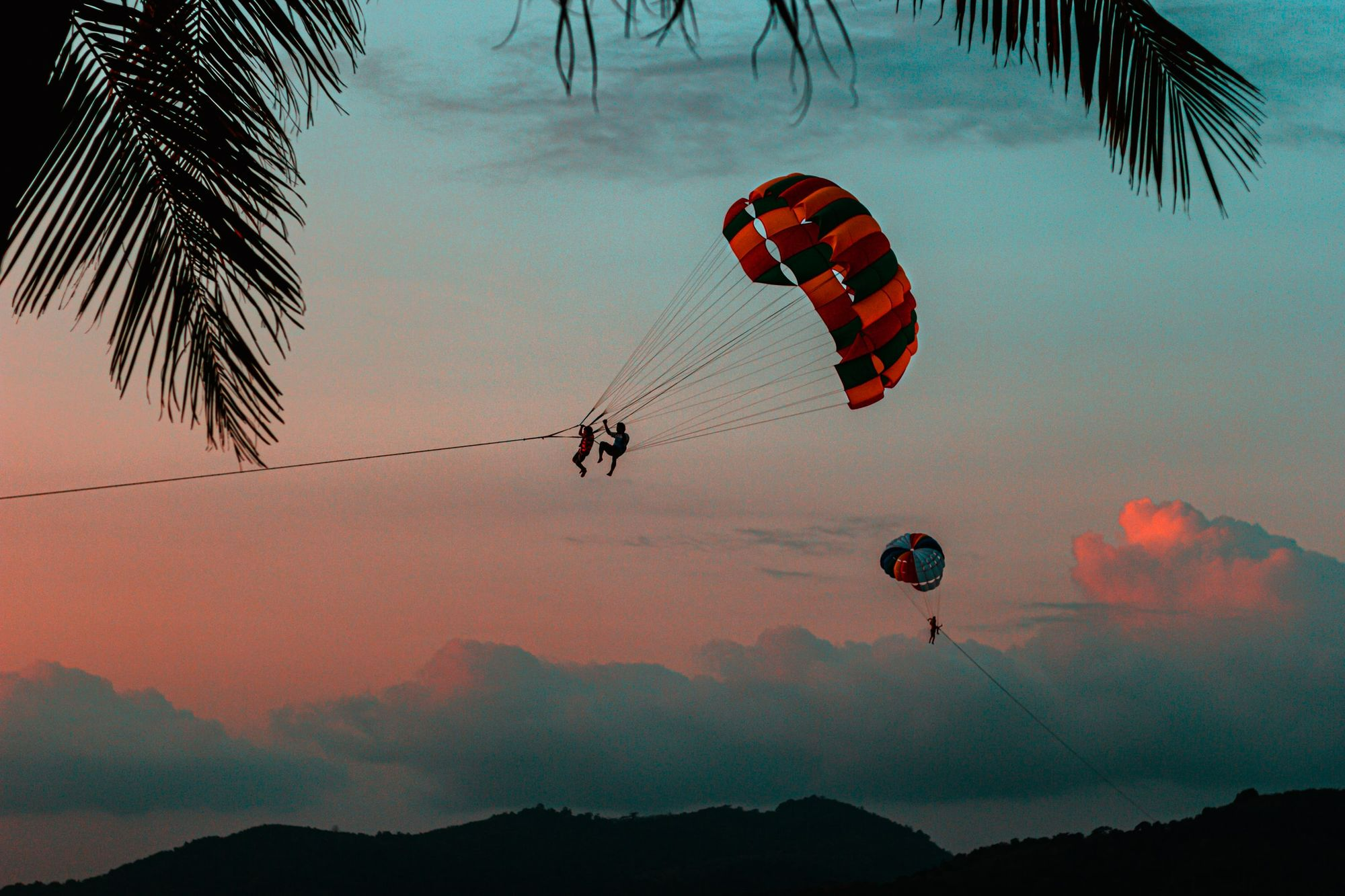 In the end of the day, Ms. H - with our humble help - had invested her money wisely and is reaping the rewards. While every investment is unique and the market is always changing and evolving, there is plenty of opportunities to be had, on Phuket and elsewhere - and we're always happy to advise you on the latest trends and insider market news.
👉 In case your were guessing: 'H' is for 'Happy Homeowner'
P.S. By the way - the developer had recently launched a new project - a sequel to Title Nai Yang. Contact us if you are interested.