The Forestias Signature Series - Luxurious Condominium Living in Bangkok's Urban Oasis
Condo
2 – 5 Beds
2 – 5 Baths
4772.80 m2
Property description
Overview
Forestias Signature Series is a luxury high-rise located in the heart of Thailand's biggest and most exciting landmark development ever - The Forestias.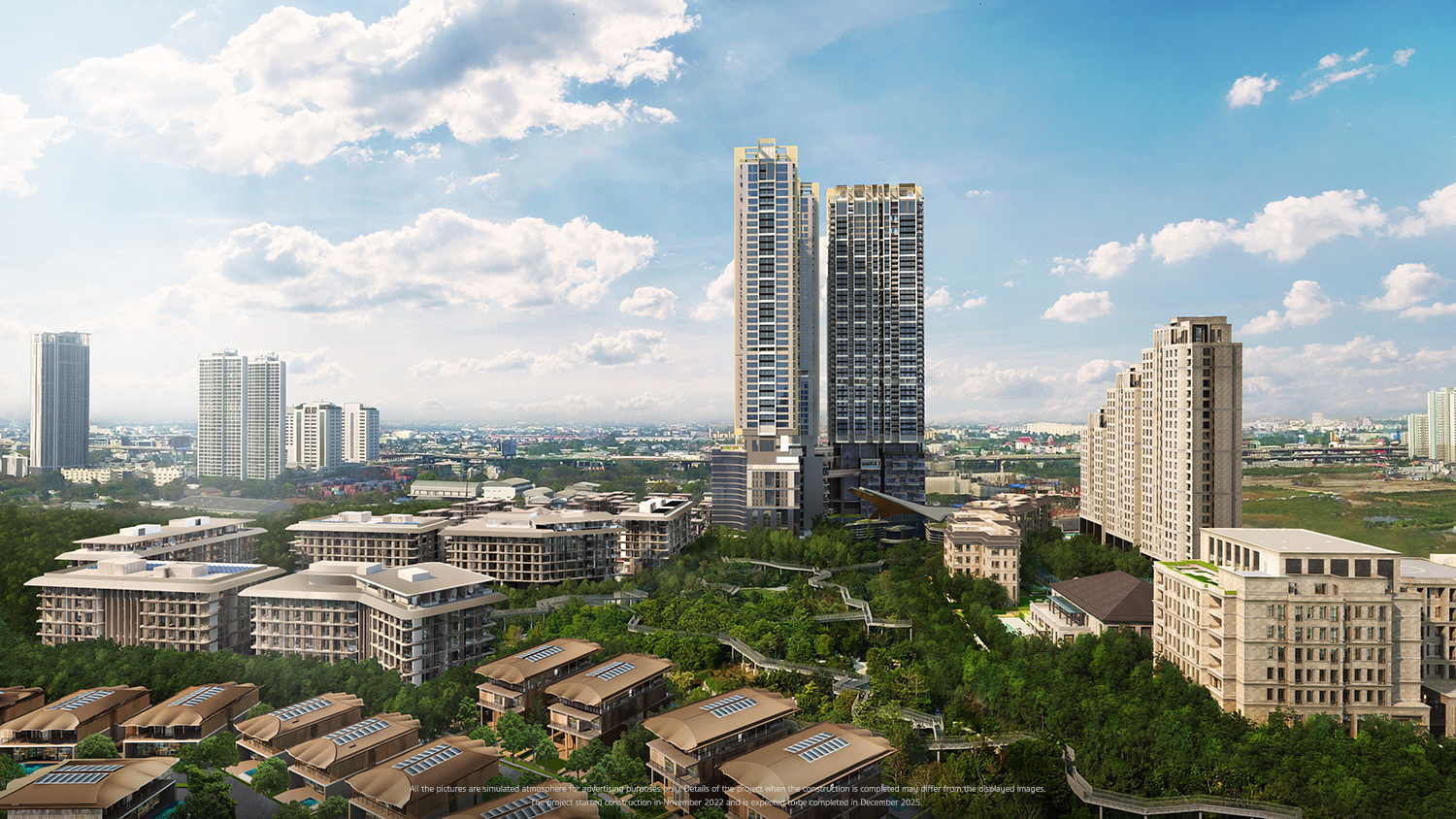 It's a luxury, low-density high-rise with the best views of Forestias' eponymous man-made forest, that will offer spacious homes to just 122 lucky families.
The Forestias
The Forestias is the latest mega-scale mixed-use project, developed by MQDC on a giant plot of land on Bang Na-Trad road. It's Bangkok's first luxury forest community property where residents can enjoy nature as part of an intergenerational community.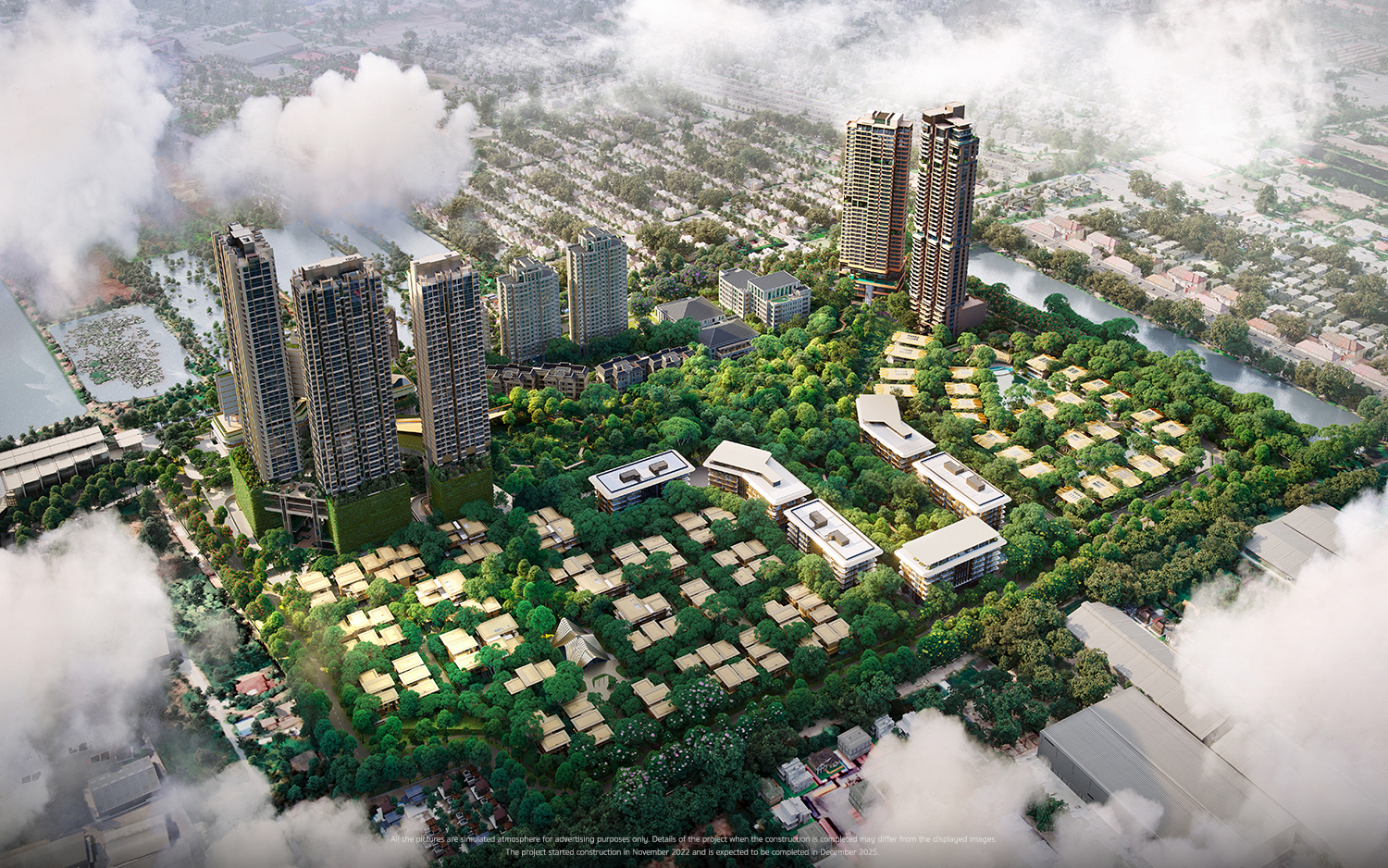 The project will include a commercial area, accessible to outsiders, that will include a state-of-the-art medical center, mall and a shopping galleria. The residential area will include 6 residential projects (3 towers of Whizdom condos, Mulberry Grove Condo, Mulberry Grove Villas, Aspen Tree Retirement Homes, Six Senses Residences and now - Forestias Signature Series), as well as Forest Pavilion clubhouse, Six Senses hotel, Indigo hotel and more.
The center of the project is occupied by 30-Rai tropical forest. The developer hired ecologists who designed the forest, selecting a lineup of plants and animals, introduced in stages to create a sustainable ecosystem.
The Forestias is Thailand's largest private sector property development project, spanning 398 Rai and valued at approximately US$ 3.8 billion. It's an unprecedented project on a scale that very few developers are capable of pulling off (MQDC is the largest private developer in Thailand, with such projects like ICONSIAM and 101 True Digital Park / Whizdom 101 in their extensive portfolio).
The Signature Series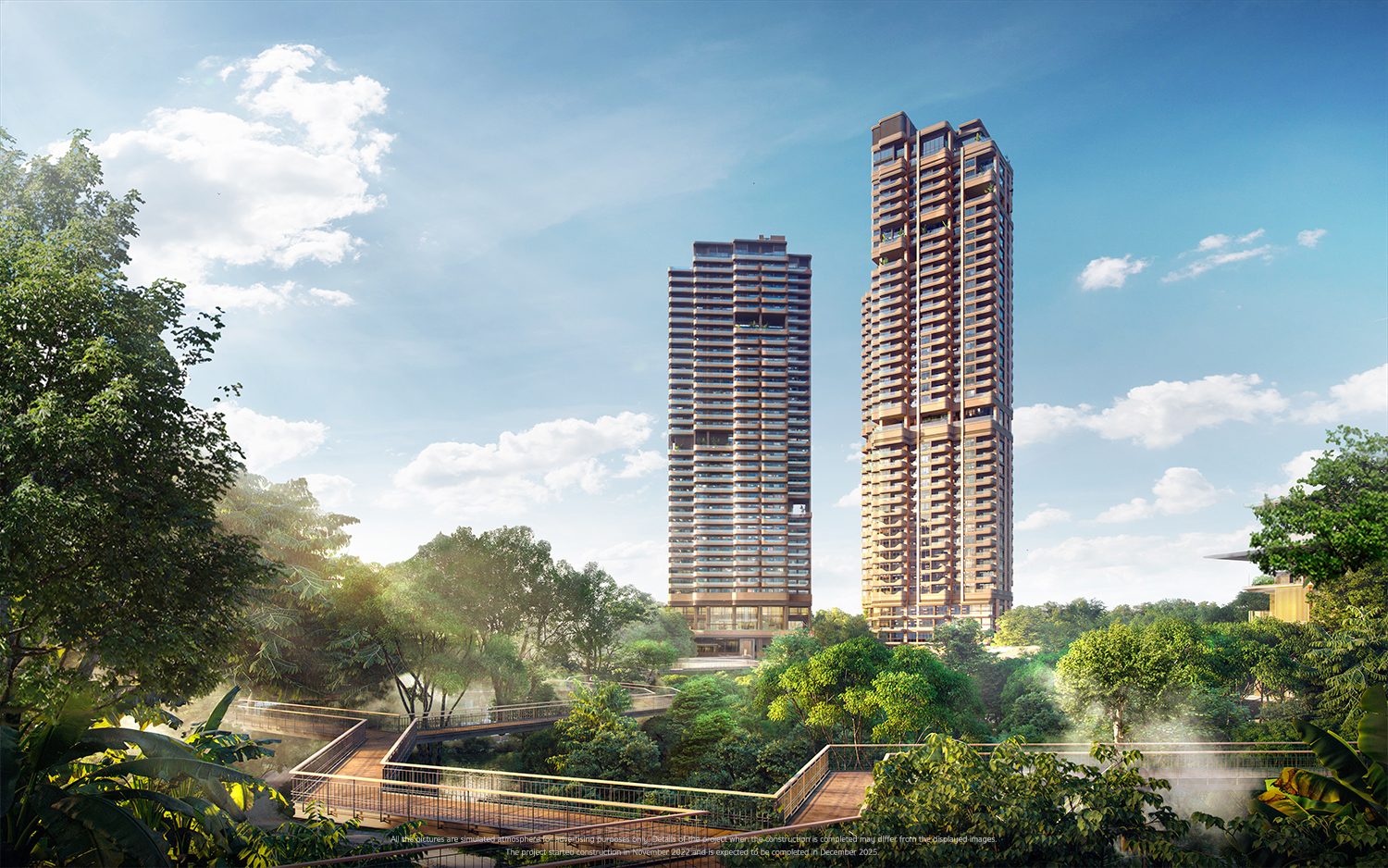 The Forestias Signature Series will comprise a single 44-storey high-rise with only 122 units (2-4 units per floor), each with private elevator access. Of course, every unit in the project has forest views, but it's not just that. The project's façade is facing North, overlooking the forest in the center of Forestias along its longest side - ideal position in the projects to ensure absolutely spectacular views.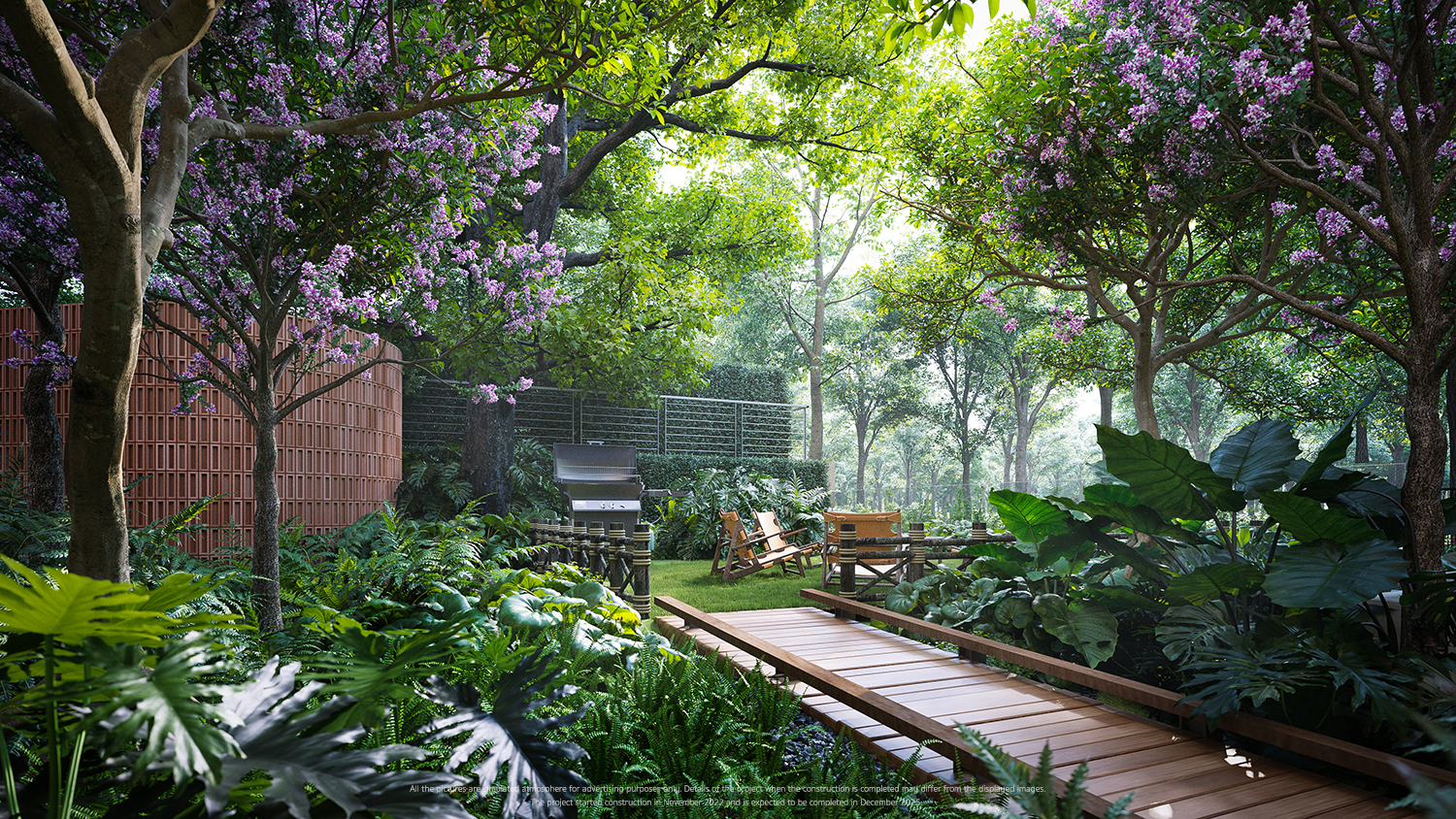 Signature series is standing on almost 3 rai of land (2-3-93.2 rai = 4,772.80 sqm) - which is more than respectable for a high-rise tower. The units offer functional layouts and plentiful space, starting from 140 sqm 2-bedrooms all the way up to 335 sqm 5-bedrooms and then to a colossal 917 sqm penthouse with private lap pool and garden. As mentioned above, all units have private elevator access; all units also have laundry rooms, and the ones over 180 sqm have maid rooms. Duplexes, and private plunge pools are available.
The project offers over 200% parking spots.
As with all MQDC projects, the condos come with impressive 30 years warranty on structure, roof (water leaking), sanitary and electrical system, doors and windows. The developer also goes some extra length to deliver on their vision of '7 dimensions of well-being' (living quality, thermal comfort, air quality, lighting quality, acoustic quality, health and safety, living with nature), with a number of QoL systems in place, from circadian lighting systems to air-quality tracking systems employed in the construction.
Facilities
The project has a full range of facilities and services available to tenants, located in several zones in the building.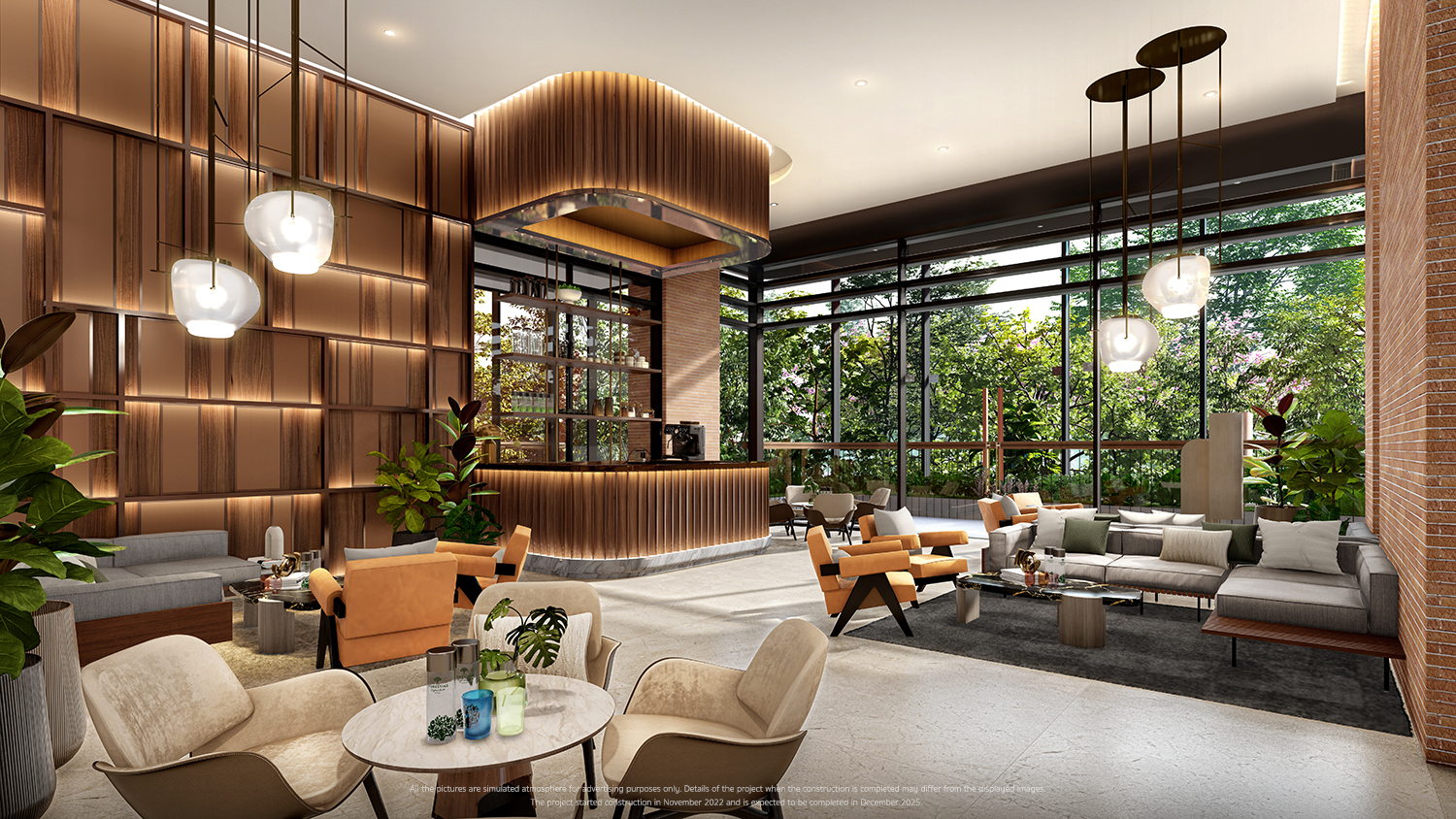 Ground floor
Multi-Purpose Lawn
Forest Terrace
Treehouse
Lobby
Guest Lobby
Residence Lobby
Co-working Space
2nd Floor
Residence Lounge
Game Room
Home Theater
Private Dining
Private Salon
Private Spa
20th Floor
Yoga & Pilates
Golf Simulator
21st Floor
Fitness
Swimming Pool
Onsen (Themal pool)
Sauna
22nd Floor
35th Floor
39th Floor
The project also has 24-hour security and CCTV, as well as automated parking (over 200% parking spots) and guest parking.
Following services are available to tenants.
Services
Concierge
Doorman & luggage delivery service
Personalized mail delivery
Fitness center attendant
Shuttle service (golf cart)
24-hour security
Maintenance of all common and public areas
Housekeeping
Apart from this the tenants of all project in Forestias will have access to Forestias common facilities, including the clubhouse, jogging and bike tracks, retail gallery, kids club, shuttle service, smart bus service, outdoor activities etc.
And apart from that the Forestias Signature Series will be connected to Indigo hotel (the second tower you see next to the project on pictures) with tenants having access to hotel's facilities as well.
Key features
Freehold
Scenic views
Eco-friendly development
Maid's room
Project information & amenities
Fitness
Reception
Kids pool
Jogging track
Communal swimming pool
Co-working space
Spa
Garden
Yoga/meditation studio
Children playground
Fitness
Reception
Kids pool
Jogging track
Communal swimming pool
Co-working space
Spa
Garden
Yoga/meditation studio
Children playground
Investment highlights
Part of one of the most ambitious landmark developments in Thailand
Luxury condo with spacious, well-designed units
Best position in Forestias offers forest views from every unit in the building
Impeccable construction quality, with 30 years warranty on structure, roof, sanitary and electrical system, doors and window
Impressive facilities with access to Indigo hotel, as well as The Forestias facilities and infrastructure.
What is nearby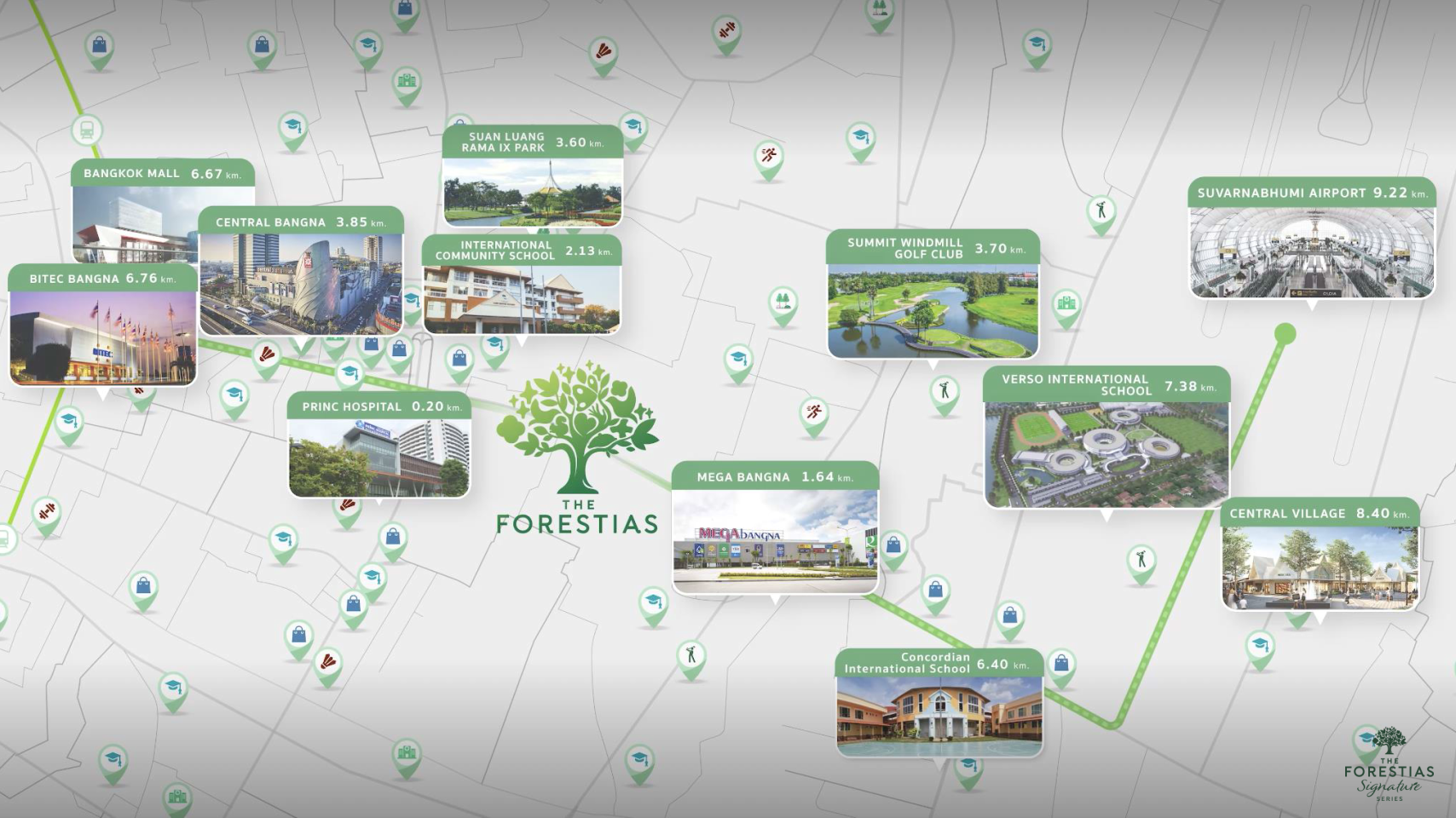 The Forestias master development, is situated along Bang Na-Trad Road in the Bang Na area, approximately 7 km away from Sukhumvit Road.
Bang Na is an emerging and actively growing district in Bangkok. It is notable for hosting the prominent BITEC (Bangkok International Trade & Exhibition Centre) conference center. Additionally, Megabangna, one of Thailand's largest shopping complexes, is also located here, featuring over 400 stores, including the country's inaugural IKEA store. The Forestias is conveniently situated a mere 1.5 km away from Megabangna.
Moreover, the vicinity boasts other notable shopping centers such as Central Bang Na and Seacon Square malls.
The areas is also seeing some significant infrastructure development. In June 2023 the MRT Yellow Line was be launched, enhancing transportation connectivity. The nearest station, Si Lam MRT is located approximately 3 km from The Forestias. This station may potentially serve as an interchange between the Yellow Line and the BMA Bang Na - Suvarnabhumi Line, which has recently completed its feasibility study in March 2022 and is currently undergoing project development.
The Forestias Signature Series has taken up one of the best plots in the Forestias, standing on the edge of the project's forest. The project looks over the forest along it's longest side, which allows the best possible views.
Shopping
Health & Wellness
Megabangna
Southeast Asia's largest low-rise shopping centre and a home to the 1st IKEA in Thailand
Bangkok International Trade & Exhibition Centre: BITEC
Convention and exhibition hall has a total floor area of 54,000 square metres.
Units
| Unit | Price | Bedrooms | Bathrooms | Size m2 | Floor plans |
| --- | --- | --- | --- | --- | --- |
| 2 Bedroom | ฿ 34,817,000 | 2 | 2 | 141.01 | |
| 3 Bedroom | ฿ 46,822,000 | 3 | 3 | 185.32 | |
Developer profile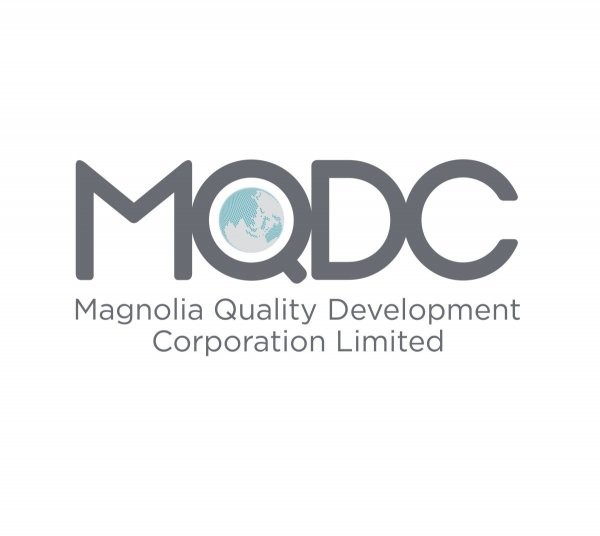 Magnolia Quality Development Corporation Limited (MQDC) is one of the biggest developers in Thailand (and the biggest private one). It specializes in large-scale mixed-use projects, including such landmark developments as ICONSIAM, Magnolias Ratchadamri Boulevard and Whizdom 101, as well as new The Forestias mega-project - which is set to become one of the largest (if not the largest) private sector property initiative ever undertaken in Thailand.